Traveling as a couple can be one of the most exciting and romantic experiences. It's a great way to strengthen your bond, create unforgettable memories, and see new places together. Whether you're looking for a honeymoon destination, a romantic getaway, or just a chance to explore a new city with your significant other, there are plenty of options to choose from. In this blog post, we'll share with you the unique and best places to travel as a couple that is perfect for creating lasting memories.
When you're in a relationship, nothing beats traveling together to strengthen the bond. It's not just an opportunity to experience new cultures and scenery, but also a chance to escape the drudgery of everyday life and build beautiful memories. However, finding the perfect destination that will cater to both your interests can be a challenge. Couples looking for a chance to fully unwind together might choose a beach vacation or spa weekend in a beautiful destination. To simplify your task, we've rounded up some of the best places to travel as a couple.
Best Places To Travel As A Couple
Are you looking for a perfect way to celebrate your love while seeing the world? Traveling as a couple is a great way to spend some quality time together and create unforgettable memories. However, choosing the best destination can be a daunting task.
Here are some lists of the best places to travel as a couple and will help you make your dream couples' getaways a reality.
Santorini, Greece
Known for its stunning sunsets, turquoise waters, and white-washed buildings, on volcanic cliffs. Santorini is a dream destination for couples. Take a leisurely stroll through the quaint streets, sip on wine at a local winery, or take a dip in one of the many idyllic beaches. You can even opt for a private sunset dinner overlooking the caldera for a truly special experience.
Santorini is a popular destination for honeymooners and couples for its unique landscape, white-washed houses, and cobalt-blue sea. It's an island where you can escape from the hustle and bustle of everyday life and enjoy romantic sunsets. You can stroll through picturesque streets, and indulge in traditional Greek cuisine. Make sure to explore the ancient ruins of Akrotiri, wander around the colorful town of Oia, and spend a day at the red beach. You will never forget the experience.
It is an ideal destination for couples who love the picturesque view and peaceful environments. Additionally, there are many unique places to stay in Santorini, such as cave hotels and tranquil villas that will make your stay even more romantic.
Bali, Indonesia
This tropical paradise is perfect for couples who want to unwind and relax amidst breathtaking natural beauty. From staying in a luxury beach resort to exploring the lush green rice paddies, Bali offers a balanced mix of relaxation and adventure. For couples seeking the ultimate indulgence, try private spa treatments followed by a romantic dinner under the stars.
Bali is a romantic and breathtaking island in Indonesia known for its stunning beaches, lush green landscapes, and ancient temples. It's the perfect destination for couples who want to experience the beauty of nature while indulging in luxurious accommodations. You can explore and take outdoor yoga classes, enjoy world-class spa treatments, and go on sunset cruises. Don't forget to visit the famous Uluwatu Temple and witness the traditional Balinese dances.
Bali is one of the top honeymoon destinations worldwide as it offers everything that couples need such as crystal clear waters, picturesque landscapes, and luxurious resorts. Bali is an island province of Indonesia that offers many activities like scenic tours in Ubud, water adventures in Nusa Dua, and many more. Additionally, Bali's exotic beaches are guaranteed to give you the ultimate romantic getaway.
Tuscany, Italy
Tuscany's picturesque countryside, charming hilltop towns, and romantic vineyards make it a top destination for couples. Savor delicious Italian cuisine, take romantic walks through the scenic countryside, or explore the historic city of Florence. For a unique experience, stay in a charming agriturismo and taste some of the world's best wines.
Paris, France
The city of love needs no introduction. Paris is the ultimate romantic destination offering stunning architecture, world-class cuisine, and vibrant culture. Enjoy a leisurely stroll along the Seine River, and climb to the top of the Eiffel Tower for breathtaking views. Or indulge in a romantic dinner at a Michelin-starred restaurant.
Paris, the city of love, is an obvious choice for couples who want to experience its romantic charm and unique art and culture scene. Paris has some of the most stunning landmarks such as the Notre Dame Cathedral. You can also enjoy and take a walk in Montmartre's cobbled streets that inspired the artists, and visit the Louvre Museum.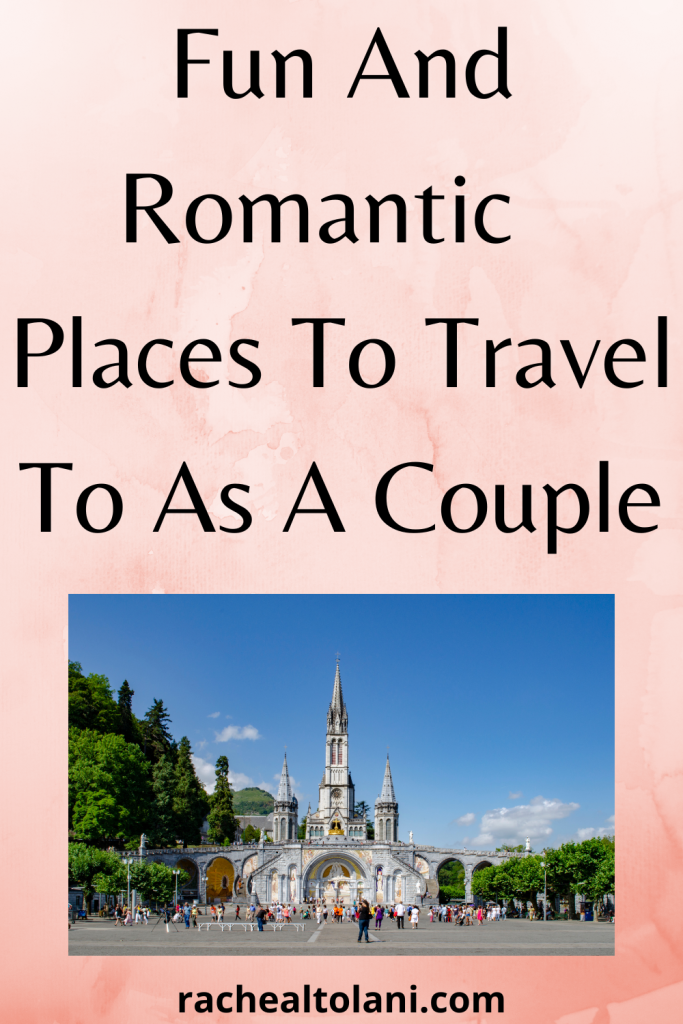 Paris has a lot of beautiful destinations. Couples can enjoy romantic walks in parks such as Jardin Des Tuileries and Luxembourg Gardens. Dining in one of Paris' cozy restaurants and sipping wine while enjoying the charming city is always a great idea for couples. Trust me, the city of love will make your love grow stronger.
Cinque Terre, Italy
A collection of five charming coastal villages perched on the cliffside, Cinque Terre offers a truly unique experience for couples. Hike through the scenic trails overlooking the Mediterranean Sea. Watch the sunset over the colorful houses, or indulge in delicious seafood at a local trattoria. For a one-of-a-kind experience, rent a private boat to explore the hidden coves and beaches. It will be an awesome experience in your relationship.
Maldives
This paradise on earth is a perfect destination for couples looking for a romantic escape. With crystal-clear turquoise waters, pristine white sand beaches, and luxurious overwater villas, Maldives offers the ultimate indulgence for couples. Enjoy sunset walks on the beach, snorkeling excursions, and rejuvenating spa treatments.
Kyoto, Japan
Kyoto's stunning temples, beautiful gardens, and charming traditional streets offer couples a unique cultural experience. Explore the famous bamboo forest, take a traditional Japanese tea ceremony, or visit one of the many historic shrines. Kyoto's serene atmosphere offers the perfect romantic setting for couples seeking tranquility and relaxation.
Phuket, Thailand
Phuket is a tropical paradise known for its crystal-clear waters, soft sandy beaches, and lush green hills. Couples can indulge in the culture and unique Thai cuisine. Visit the stunning Wat Chalong Temple, and explore the stunning landscapes of Phang Nga Bay. You can also have a romantic dinner on a private beach, go island hopping and snorkeling.
Cape Town, South Africa
Cape Town is a beautiful and diverse South African city, offering the perfect mix of nature, culture, and adventure. Couples can take a cable car ride up to the famous Table Mountain. You can also visit the vibrant Bo-Kaap neighborhood, and hike up Lion's Head for breathtaking views of the city. The region has stunning vineyards, whale watching, and even shark diving trips for those looking for adventure.
Venice, Italy
Venice is another popular romantic destination that offers everything that couples will fall in love with. This picturesque city is famous for its gondola rides that allow couples to explore the canals that wind through the streets of the city. Couples can also enjoy dining in charming restaurants amidst the sound of music and the twinkling lights of the city.
Krabi, Thailand
Krabi lies on the west coast of southern Thailand and is an excellent destination for couples. It is famous for its beaches, stunning limestone rock formations, and lush greenery. Couples can indulge in beach activities during the morning and a romantic sunset dinner on the rooftop later. Krabi is one of the most underrated romantic destinations in the world.
Discover the Best Places to Travel as a Couple
Traveling as a couple is one of the best ways to create memories that will last a lifetime. Each of the destinations on our list offers a unique and unforgettable experience for couples, from romantic sunsets in Santorini to luxurious overwater villas in the Maldives. No matter where you choose to travel, be sure to embrace the adventure, immerse yourself in the local culture, and create unforgettable memories together.
These are just a few of the best places to travel as a couple. Whether you want a luxurious getaway, an outdoor adventure, or an urban experience, there's a destination out there to cater to your interests. The key is to find a place that offers a mix of activities and relaxation, allowing you to bond as a couple while creating unforgettable memories in your marriage.
Whether you are planning to embark on a honeymoon or celebrate your anniversary, traveling as a couple is always a magical experience. There are endless lists of places to travel as a couple, but these unique mentioned destinations have made a name for themselves. They will surely help you make unforgettable memories if you choose anyone from them. So pack your bags, book your tickets, and have an amazing, romantic trip of a lifetime. Happy travels!
Also, read: