Marriage is a journey that takes commitment, patience, and effort. Many couples dream of having a lasting marriage, but how do you make it happen? It's important to set goals in your marriage, just like in any other area of your life. In this blog post, we'll discuss the most common 10 couple goals you need to set for a lasting marriage.
We all look up to couples who have made it through many years of marriage with passion and determination. The secret to their success is not just loving, but the set of couple goals they have established and accomplished throughout their journey together. These goals not only foster growth and development in both individuals but also strengthen the bond between the two of them. If you are looking to create a lasting marriage, here are a couple of goals you need to set.
Relationships can be challenging, especially when you are married. But staying committed to making it work means you need to set goals together as a couple. Goals give you a sense of purpose and direction. And help you stay motivated to work towards something together. It's very important for couples to set goals for themselves to have a healthy and lasting relationship or marriage.
Communication
Communication is one of the most important factors in a lasting marriage. Couples who communicate well are more likely to have a happy and fulfilling marriage. It's important to talk about your feelings and listen to your partner's concerns. Make time to have deep conversations and really listen to each other. It's also important to express gratitude and appreciation for each other regularly.
Communication is the key to a successful relationship. Make it a goal to have open and honest communication with your spouse regularly. Communication should go beyond surface-level chit-chat to deep and meaningful conversations. Don't discuss only negative topics, share your desires and passions, and listen to your partner. Listen more than you talk and try to understand your partner's perspective. This goal brings both of you closer and strengthens your bond.
Clear communication is the key to a successful marriage. As a couple, you should set a goal to communicate regularly and transparently with each other. This means talking about your problems, your fears, your dreams, and your aspirations. Make time to listen to each other's opinions and feelings, and work together to find solutions to any issues that arise.
Quality Time
In today's fast-paced world, it's essential to make quality time for each other. This means setting aside time for each other without distractions such as phones or TVs. Go on dates, take walks together, or cook dinner together. Spending quality time together helps to deepen your connection and strengthen your bond. Setting aside a weekly date night where it's just the two of you will bring you closer and make priceless memories.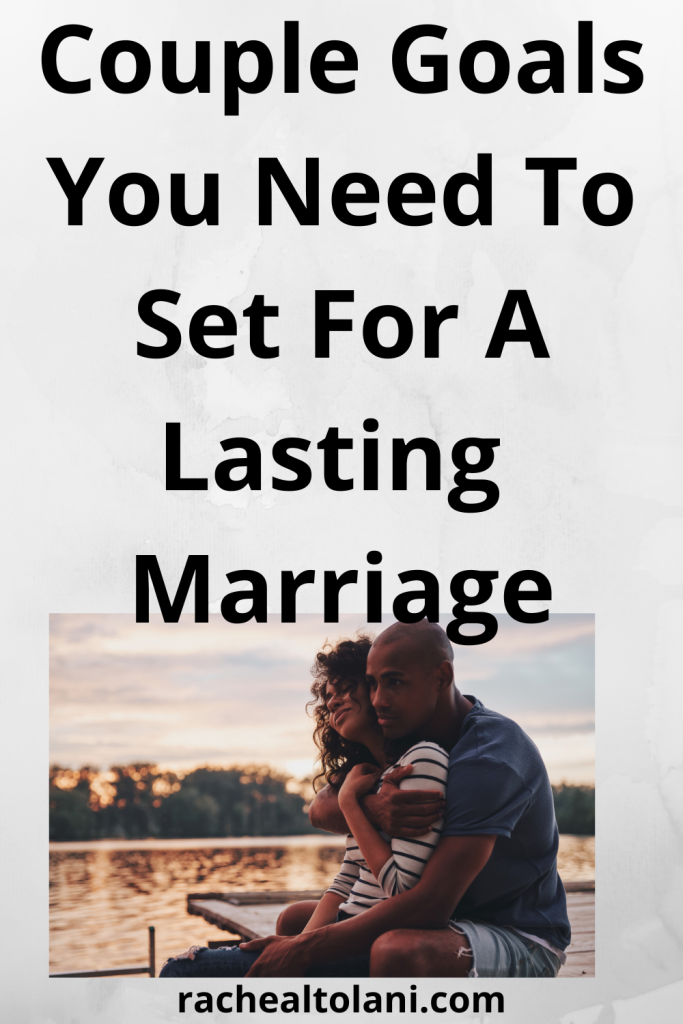 Shared Goals
Having shared goals as a couple is an important part of creating a lasting marriage. This means working together towards a common goal, whether it's saving for a house, traveling together, or starting a family. Working together towards a goal helps to build trust, unity, and a sense of purpose in your marriage.
Create a shared vision of your future together. Sit down and write down both your individual and couple goals. It could be something as simple as buying a house or buying a car for the family. Work together towards achieving these goals, step by step, and celebrate each milestone together.
Forgiveness
No marriage is without its challenges, and it's important to learn how to forgive each other. Forgiveness means letting go of hurt and resentment and choosing to move forward with love and compassion. Learning to forgive each other in your marriage can help you overcome challenges and build a stronger relationship.
We all make mistakes, and forgiveness is crucial to a healthy marriage. When setting couple goals, one of the best things you can do is develop techniques to help both of you to deal with conflict and heal from past wounds. Learn to let go of past hurt and practice forgiveness whenever necessary.
Intimacy
Intimacy is an important part of a lasting marriage. This includes physical intimacy, but also emotional intimacy. Make time for intimate moments regularly, whether it's cuddling, holding hands, or just spending time together. Physical touch releases endorphins, which can help to increase feelings of love and connection.
Financial planning
It's essential to have financial stability in your married life. Set financial goals together and work towards them. Plan a budget that you are both comfortable with and learn to manage money together. It may include saving for a down payment on a home or a plan for retirement. Financial stability is a significant factor in many marital problems. If you work on it together, it'll be easier to overcome the difficulties.
Support Each Other
Life is full of ups and downs, and having a supportive partner is a blessing in disguise. When one of you faces a challenging situation, support each other every step of the way. Look for ways to encourage and motivate each other. When you show up for each other, it offers a sense of security, and you'll also feel appreciated, and it builds trust.
Keep the Romance Alive
It's easy for married couples to become too comfortable and forget their romance. Make it a goal to keep your romance alive. Plan a date night, hold hands, show affection in public, and surprise your partner every once in a while with something special. Keep the fire burning, even after being married for years, it makes your relationship stronger.
Prioritize Time Together
Couple time is essential, even if you have kids, work, and other commitments. Spend time on weekends out, take vacations, and create special moments together. Time together allows for intimacy, intimacy deepens a relationship. It's essential to have alone time with your partner.
Sometimes in marriage, days can be filled with hectic schedules and responsibilities. However, it's essential to make the time to be together, even in the midst of busy schedules. Set a goal to prioritize quality time with each other, whether it's a weekly date night or an intentional time of just hanging out and enjoying each other's company.
Appreciate each other
It's essential to take the time to show your appreciation for your partner. Set a goal to acknowledge and compliment each other regularly. Whether it's for the little things like making breakfast or tackling something bigger like landing a new job. This can keep you both motivated and feeling connected as a couple.
Importance of goal setting as a couple
Setting goals together in your marriage is an important part of creating a lasting and fulfilling relationship. Communication, quality time, shared goals, forgiveness, and intimacy are all important goals to strive towards as a couple. By working together towards these goals, you can build a strong and loving marriage that will last a lifetime.
Every couple's journey is unique, and choosing a couple's goals should be a personal decision. These goals provide a foundation of trust, communication, love, and lifelong commitment. When you understand and set these goals, a successful and blissful marriage is inevitable.
Keep reminding each other why you fell in love, keep communicating, support each other, keep the romance alive, make time for each other, and grow old together. May your love continue to bloom and remain evergreen.
Why you need to set goals for your relationship or marriage
Setting a couple's goals is an essential part of a lasting marriage. It is about finding the balance together and working towards building a strong, happy, and fulfilling life together. These are just a few of the key areas to focus on as you work towards a lasting and healthy marriage.
Remember, lasting marriage takes effort, but it is well worth it. So, sit down with your partner, discuss these goals together, and start making plans for your future together.
Also, read:
14 Sure Signs Your Partner Is Planning To Propose Soon