Pet names are a special way to show your girlfriend how much you care. While "babe" and "baby" are always sweet, there are many other endearing nicknames you can come up with that she will love. Whether it's something unique, classic, romantic, or funny, your pet name should reflect the bond between the two of you. Let's take a look at some of the most lovely pet names for girlfriends out there. Therefore 43 cute nicknames for a girlfriend to make her smile is recommended to every man.
Coming up with a nickname for your loved one can be difficult. You want to pick something that is special but at the same time, not too cheesy. Finding the perfect nickname for that special someone in your life can be tricky. So we've compiled some of our favorite nicknames for girlfriends, just to help you out. Read on.
Unique Nicknames
If you want to come up with a nickname that is truly one-of-a-kind, consider her interests and hobbies. Think about what makes her special or different from everyone else and use that as inspiration for your pet name. For example, if she loves coffee, you could call her Cup of Joe. If she has a passion for fashion, maybe you could call her Fashionista. Or if she loves animals, then Animal Lover might be a great fit.
Be creative and think outside the box when coming up with unique nicknames.
Classic Nicknames
There are plenty of classic pet names to choose from if you want to go down that route. If your girlfriend is sweet and kind, Honey Bee could be an excellent choice. Or perhaps Snuggles is the perfect fit for someone who loves to cuddle? Other classic options include Sunshine and Angel is two terms of endearment that never get old.
Romantic Nicknames
Romantic nicknames can also be very sweet ways to show your affection. If your girlfriend is the light of your life, call her Starlight or Twinkle Toes. If she means everything to you, then Darling or Love Muffin could work well. Or if she's your soulmate, try Soulmate or My Everything on for size. These kinds of terms of endearment will make her feel extra special and loved.
Funny Nicknames
If your relationship has an easygoing vibe and lots of laughter involved, think about giving her a funny nickname. You can either go down the pun route (e.g., Sweet Pea) or inject some silliness into it (e.g., Peanut Butter Jelly). Whatever humorous pet name you decide on should bring smiles all around every time it's used.
Lovely Nicknames To Call Your Girlfriend With Meaning
1. Angel – If she's your little angel, then this is the perfect name for her. An angelic name for someone who brings beauty and light into your life. So, does your girlfriend have an aura about her that's simply divine? Let her know how special she is with this lovely nickname.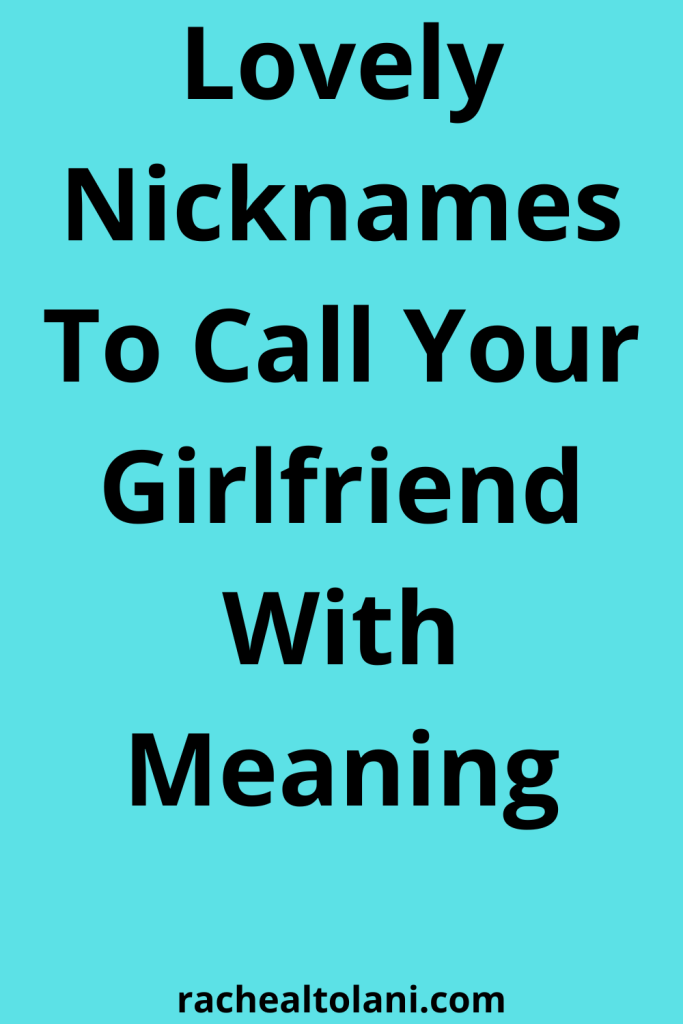 2. Baby Doll – A cute name that's full of affection and love.
3. Beauty – For when she takes your breath away with her beauty and grace.
4. Boo – Short and sweet, plus it's easy to say.
5. Buttercup – A silly and cute name for when you just want to make her laugh.
6. Chica – For when she's an absolute rockstar in everything she does.
7. Cutie Pie – This classic nickname has been around forever because it just works so well.
8. Darling– Show her how much you care by calling her this endearing name!
9. Diva– Perfect for when she deserves a nickname as unique as she is!
10. Dream Girl– Let her know that she really is your dream girl with this adorable nickname!
11. Honey Bunny– Sweet and playful, this one will have her blushing all day long!
12. Honey Pie– Another classic choice that will never go out of style!
Romantic names for her
13. Little One– Simple yet powerful words that show how much you care about her
14. Honey Bear- If you want something cute and cuddly for your snuggly soulmate, Honey Bear may be just the thing! Whether it's because she's cute as a bear cub or as sweet as honey, she'll love this adorable name.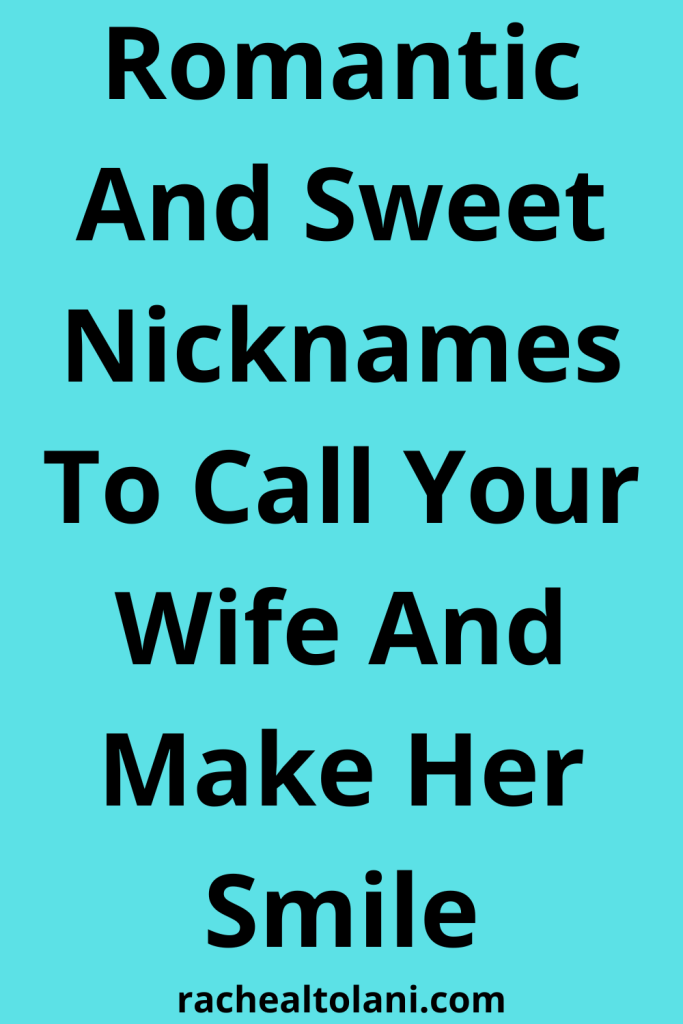 15. Lovebird– Let her know how much you care by using this romantic name!
16. Mamacita– The Spanish word for "mama" which implies love and adoration
17. My Everything- Perfect for when she truly means the world to you
18. Princess- Show your princess just how important she is with this regal nickname
19. Queen Bee- She may already think of herself as a queen bee, so why not show it?
20. Sugar Plum- Sweet and beautiful, like a real-life sugar plum fairy!
21. Sunshine – Just like sunshine, she always brings light into your life.
22. Superstar – Give her the recognition she deserves with this dazzling name
23. Sweet Pea – A playful way to show your appreciation for all the sweetness in her personality.
24. Sweetheart – Classic, timeless, and always reliable —she'll love it if you call her sweetheart.
Cute Nicknames For Your Girlfriend To Make Her Feel Special
25. Treasure – Letting her know that she's a true treasure in your life will mean the world to her
26. Twinkle – Reminiscent of stars twinkling in the night sky. However, it'll make any girl feel extra special.
27. Wonderwoman – Because every woman should feel strong and empowered. Thus give your girlfriend a reminder of just how powerful she really is.
28. Babe – Short, sweet, and definitely romantic, and babe works great as an intimate nickname between lovers.
29. Beloved – Cliche? Yes but also undeniably romantic.
30. Darling – Another classic option that'll make any girl feel loved.
31. Gummy Bear – Fun, playful, and sure to get a giggle from any girl who hears it.
32. Lovebug – Perfect if you want something more creative than "honey" or "sweetheart"
33. Sunshine On A Cloudy Day- This one conveys ILLUMINATION and isn't that what love does?
This nickname is perfect for someone who brightens your day with their presence, like sunshine on a cloudy day. In addition, if your beloved adds joy to your life, why not let them know by calling them Sunshine?
Creative pet names to gladden her heart
At the same time, learn how to shower your girlfriend with some of these romantic words. Women generally love and cherish them.
34. Lady Of My Heart- Every woman wants to know they are cherished.
35. Lovely Lady- Simple yet elegant—what more could anyone ask for?
36. My Heartbeat- Letting someone know they are the rhythm of your heart speaks volumes.
37. My Only One- When there's nobody else but HER and let HER know.
38. Precious Pearl- Perfect if you're looking for something precious
39. Starlight Of My Life- She brings brightness into YOUR life, so let HER KNOW.
40. True Love Of Mine- Letting someone know they are YOUR TRUE LOVE is perhaps THE BEST feeling ever.
41. Unforgettable Soulmate—A soulmate doesn't come along every day…so why not remind them of their importance?
42. Sugar- A classic term of endearment that every girl loves to hear. Sugar implies sweetness and affection. So if your significant other is always sweet and loving toward you, this could be the ideal nickname!
43. Cupcake- Is she small but mighty? Cupcake could be the perfect fit! She won't forget anytime soon when you call her this delicious name. Especially if you pair it with a real cupcake treat!
Importance of Nicknames
Whether it's something simple like "baby" or something elaborate like "lovebug," there's no shortage of creative nicknames out there waiting to be discovered. Hopefully, these ideas gave you some inspiration along the way. Now go forth, find yours, and give your girlfriend a nickname worthy of all the love in your heart.
Calling someone by a pet name is sure to make them feel appreciated and loved. Especially when it comes from someone as special as their significant other. Whether it's something unique, classic, romantic, funny, or even a combination of those things. You can find just the right nickname for your girlfriend that perfectly expresses how much she means to you.
With this list in hand full of the loveliest pet names for girlfriends out there today. We hope you have found just what was needed in choosing an extra special nickname for your amazing girl.
Pet Names that will make her smile
No matter what kind of romantic relationship you have with your girlfriend. Showing her how much you appreciate her will go a long way in strengthening the bond between you two. Showing affection through pet names is one way to do just that. So why not start now? Pick out one of these lovely nicknames for girlfriends today and watch her face light up with joy when she hears it.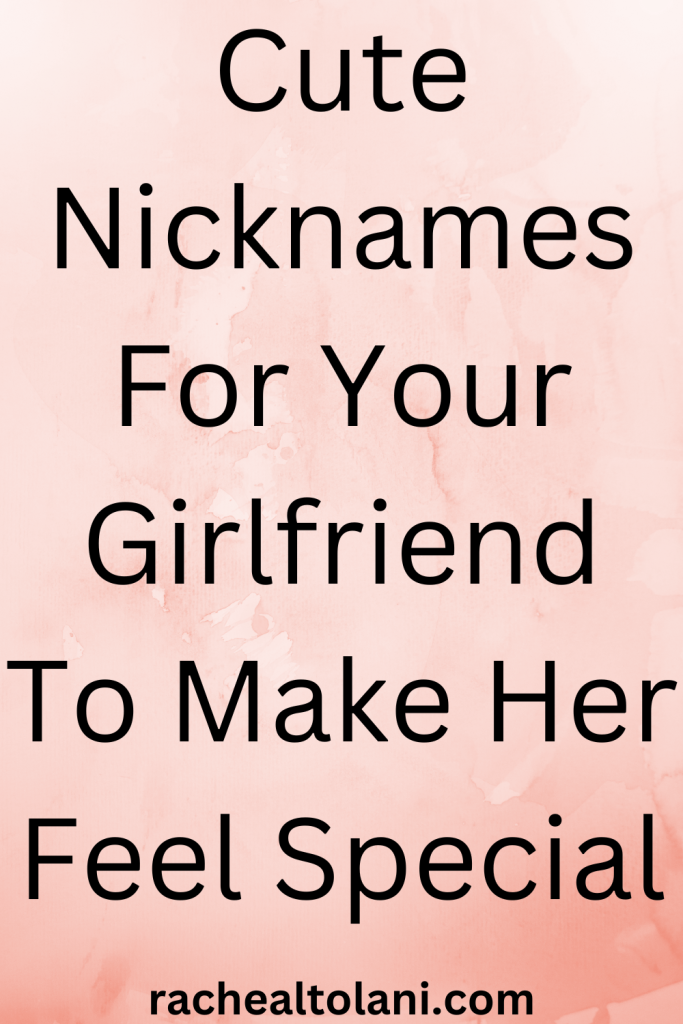 40 Creative Nicknames for Your Girlfriend
Also read: