If you're stuck at home and wondering what to do, don't worry. There are a ton of activities that you can enjoy from the comfort of your own home. Here are fun ideas that will help you beat those boredom blues. 50 Things to do when you are bored at Home is highly recommended.
Feeling bored and want something to do? We've all been there. After scrolling through Netflix for the fifth time, it's time to try something new. Whether you live alone or with family, there are plenty of activities that will help keep boredom at bay. From board games and self-care to get into gardening or indoor houseplants.
Some of the best things to do when you're feeling uninspired are at your fingertips.
Fun Ways to Pass the Time at Home
Being stuck indoors can be a drag, especially if you don't have anything planned. But there are plenty of ways for you to pass the time and make sure you're not just twiddling your thumbs all day long.
Here are some fun activities that'll keep you entertained when boredom strikes.
1. Get creative with cooking
Get out of your cooking rut by trying something new in the kitchen. Choose one of your favorite dishes and give it a twist, or try an entirely new recipe that you've been wanting to test out. You can also search online for some unique recipes if you need some inspiration. Not only is this a great way to pass the time, but you'll also get to enjoy delicious food once you're done.
2. Give yourself a makeover
Whether it's giving yourself a full spa day or just doing something small like painting your nails. Taking some time to give yourself a makeover is always fun. And who knows? Maybe when everything resumes back to normal, you'll have stumbled upon your new signature look.
3. Have a movie night
Gather up all of your favorite snacks and drinks and pick out a few movies or TV shows that you love and enjoy them with family or friends (virtually). It's such an easy activity and one that never gets old. Plus, it's an excuse to indulge in all those snacks without feeling guilty about it. Hey, we all deserve it, and spoil yourself once in a while.
4. Plan your next staycation
Don't just dream about it. Put it into action and start looking for cheap tickets and even a hotel of your choice. You will have a better idea because you don't have anything to do at the moment. Give it a trial.
5. Exercise at home
Working out doesn't have to be boring. There are plenty of ways to stay active from the comfort of your own home. You can sign up for virtual classes or follow along with exercise videos on YouTube. There are tons of options available so that anyone can find something they like doing. Exercise releases endorphins which can help boost your mood as well as keep you healthy and fit.
6. Clean out your closet
This might sound like more work than fun but trust me it doesn't have to be! Set aside some time for organizing and cleaning out the clutter in your closet and get rid of anything that no longer serves its purpose in there (like clothes that don't fit anymore). Once it's done, reward yourself with some online shopping. So that you can fill up the empty space with new items. You deserve it after all that hard work.
7. Get Creative With Art Projects
Not feeling creative? Think again! There are so many fun art projects that can be done right in your own home. No special supplies are required. For example, create a collage out of old magazines or newspapers. Make a homemade postcard, or draw something silly on a piece of paper. Even if your project doesn't turn out perfect, it'll certainly help pass the time.
8. Learn Something New
What better time than now to learn something new? Use the extra time indoors to explore topics that interest you or pick up a new skill like coding or cooking. If it's not something you'd normally have access to, there are plenty of online tutorials available for free. Or at low cost on sites like YouTube and Skillshare. You never know what knowledge may come in handy down the line.
9. Take Up a New Hobby
Now could be the perfect time to try something new. Whether it's knitting, painting, or something else entirely, taking up a hobby is a great way to stay busy and boost your creativity. Learning something new can also give you a sense of accomplishment and help relieve stress. Plus, there are tons of online tutorials out there that can teach you how to do almost anything.
10. Catch Up on Your TV Shows or Movies
We all have that long list of shows or movies we've been willing to watch but haven't quite gotten around to yet. Well now's your chance. Binge-watching an entire series from start to finish can be incredibly rewarding and provide hours of entertainment. Or why not watch some classic films? Many streaming services offer hundreds of titles for free. So you won't have any trouble finding something interesting to watch.
11. Reading
Reading something inspiring is one of the best ways to pass the time while improving yourself at the same time. There are so many inspiring books out there that will teach you valuable lessons about life and help get your creative juices flowing. A great book can make all the difference in turning boredom into motivation. Another option is reading articles online. This is an excellent way to learn more about topics that interest you while taking a break from screens (if needed).
12. Be Creative
Get creative with cooking/baking. We may be spending more time at home than usual but that doesn't mean we need to settle for boring meals every day. Why not challenge yourself with some cooking or baking? This could be a great opportunity for trying out recipes you've never made before or perfecting dishes that require practice.
You don't even need fancy ingredients. Simple recipes with common pantry staples can still turn out delicious results. Not only will cooking/baking give you something productive to do, but it'll also leave your taste buds happy in the end too.
13. Learn how to play an instrument
You can make use of this time to learn some of the instruments you're interested in. There are a lot of tutorials on Youtube that you can learn from for example, piano, guitar, etc. You will be surprised that you will be good at it in a short time and there is no knowledge that is wasteful.
14. You can write an essay or an interesting short story
Do you know that you can actually write a short story about your past experience in life? It will be like motivation and a stepping stone that will push you to where you want to reach.
15. Play with the crossword puzzle
You can play this with your family where everyone will lie down to take a part. It could be very fun for everyone and increase your family bond.
16. Try Origami
It can be a little bit challenging but it will increase your curiosity and online tutorials can be of help.
17. Watch a Rom-Com marathon
We all like to watch some common romantic comedies. But, challenge yourself and step out to watch other things like this. Remember your soft drinks and popcorn. You will enjoy it.
18. Have a Digital Movie Marathon
Seen every movie in your library? No problem! Gather your friends and family virtually and have a digital movie marathon. All you need is an internet connection and a streaming service subscription or two. Pick out some fun movies from different genres, grab some snacks, and get comfortable. This is a great way to connect with loved ones while still being safe and socially distant.
19. Learn to combine and try new outfit
When you do this, your wardrobe can feel fresh and reshuffled. You will discover some clothes you haven't worn for a very long time. This can make you creative and ready for your next social outing with entirely different color combinations.
20. Write a letter
Can you remember the old-school days when there is no Facebook or phones? It's fun and heart-touching to read a letter from someone special. Try to do the same and write a warm letter to a friend and family.
21. Watch a sport game
This will make you interested in some other sports you don't really watch. Maybe you're tired of watching football, why don't you try to watch for example swimming or table tennis. From there, you're building yourself up and getting rid of boredom.
22. Call a friend
Maybe you're the type that doesn't normally call. Now is an opportunity for you, to make a call to your old friend and surprise him/her. It's a good way to reconnect with a long-distance friend and make you feel closer than you think.
23. Watch a performance
Instead of watching films all the time, try to watch some educative performance shows like Opera, ballet, and other programs that will make you learn from others.
24. Learn a new language
Thanks to technology, there are many possible ways to learn other languages now online. You can download apps like Duolingo and increase your mental capability wherever you are in the world.
25. Have a dance party with yourself
Anytime you feel bored, play your favorite music and dance to it. When you're doing some cooking, naturally you're lifting up yourself with that music. Try to sing along and it will make you happy.
26. Align yourself with a popular move
You can download tik tok apps on your phone and learn some of the trending moves. It will make you easily forget that you were once bored.
27. Learn how to tie and dye an outfit
If you don't know how to start, everything you need is on Youtube from the materials down to the end. You will be proud to tell everyone that you're the one who makes this outfit that you're wearing. It will gladden your heart and make you learn more.
28. Paint a picture
You can relax and learn how to paint from the DIY sip and paint. There are many tutorials on Youtube. You will be amazed at how fast and good you can be at it.
29. Make jewelry that you like
You can get DIY jewelry Kits. You can make a lot of new jewelry that matches your new clothes collections. In fact, you're good to go!
30. Listen to podcasts
Have you tried this before? There are lots of fun podcasts you can listen to, for example, true crime podcasts or comedies podcasts, and much more. It will actually catch your attention and you will enjoy it.
31. Download the audiobook
This is a very good opportunity especially when you're lazy to sit down and read. You can listen to audio anywhere, while you're doing some other house chores.
32. Make a memorable custom photo book
You don't necessarily need to be a professional before making a very nice photo book. Make use of online services and make a complete and beautiful family photo book that will keep your memory fresh.
33. Rearrange your internal decor
This is what I personally do anytime I'm bored. Try to change the pattern of your living room, bedroom, and even your kitchen. These will get you busy and while away time as well.
34. Create your own recipe
Yes, you can, try to be creative as well. Try new recipes and make some snacks. When you're bored, you can open your fridge and close it more than 20 times within 5 minutes. Instead, think outside your box and come out with something different from your fridge down the oven.
35. Learn to make homemade ice cream
You can buy an ice cream maker and learn to combine your own favorite ingredients. In addition, you can learn from Youtube. It will help you save money for your family. Homemade ice cream is the best.
36. Write down your future goals
Making a future goal for yourself is one of the best things to do. Look beyond the present and write down your plan for where you want to be in the next 5 years or beyond. It may be your family, your career, or whatever. It will help you to stay focused.
37. Make a gratitude list
When you're bored and feeling down, try to reflect on the good things that have happened to you in the past. It will give you a reason to be happy and gives you the energy to dream bigger.
38. Try to learn to knit
This has been nearly every grandma's favorite. It gives them joy and makes them happy to be able to knit for their grandchildren. At the same time, it keeps them busy and helps to train their hands, fingers, and even their mental muscles. This is because it helps their memory and concentration. Have you thought of this when you get old?
39. Do Zumba
Try to put on some nice music and dance Zumba. It will lift your spirit up and at the same time help you to exercise your body.
40. Check your memory lane
Bring out your old photo or check your old post on social media. It will bring back your old memories and make you laugh. You will be amazed at how you look 10, or 20 years ago and see how you look now. It's a good way to get relief from boredom.
41. Clean up your drawer
When you do this, there are some things you've probably forgotten you kept there. It's good once in a while to do random cleaning like that.
42. Swap your furniture
Anytime you do this, you will feel like everything is new and at the same time, you will have more space for other things.
43. Clean your dishwasher
When you're bored, try to clean your dishwasher filter. It requires regular cleaning and will make it work more effectively.
44. Wash your washing machine
It also needs to be washed very properly and regularly. It enhances the life span. You can add it to your free afternoon schedule, summer or springs holiday.
45. Clean your window
Any time there is sunshine, you will love to see the bright and shining window. It will definitely boost your mood. Because you just want to enjoy every bit of the sunshine.
46. Wash your pillows
It's always good to wash the pillow regularly too. It aids in a night of good sleep.
47. Wash your makeup brushes
It's very easy to forget all these little things but those are the things we can do in our boring time.
48. Clean your purse
Women are very good at switching bags and purses. It will be a good idea to sort through your bags and purses once in a while. Clean up some receipts and sweat raps. You will never know maybe you will find some lost lipstick and money.
49. Wash and clean your outdoor space
Our outdoor space also needs to be cleaned. You will like to have a clean environment right from your doorstep. You will never realize how time will fly when you start to do this.
50. Work in your garden
If you have a garden, there are always little things to do out there. Weather planting, removing unwanted weeds, and removing old flowers and branches. It will lift you up and also help you to get fresh air.
Beat Boredom With These Fun Activities!
With these above activities, boredom won't stand a chance. So take some time for yourself today and pick one activity from this list not only will it help pass the time but it might even spark some creativity within you too.
Boredom can be frustrating but having activities lined up can make it more bearable and even enjoyable. So don't let boredom take over you try one or some of these activities next time you find yourself wanting something new to do at home. Who knows maybe you'll unlock a hidden talent waiting to be discovered.
With just a little bit of effort, boredom has no chance when stuck inside your house. Take up a new hobby, catch up on your favorite shows/movies, read inspiring books or articles, and get creative with cooking/baking – there are countless entertaining options available right at home. So make sure boredom doesn't bring down your mood and find something fun today.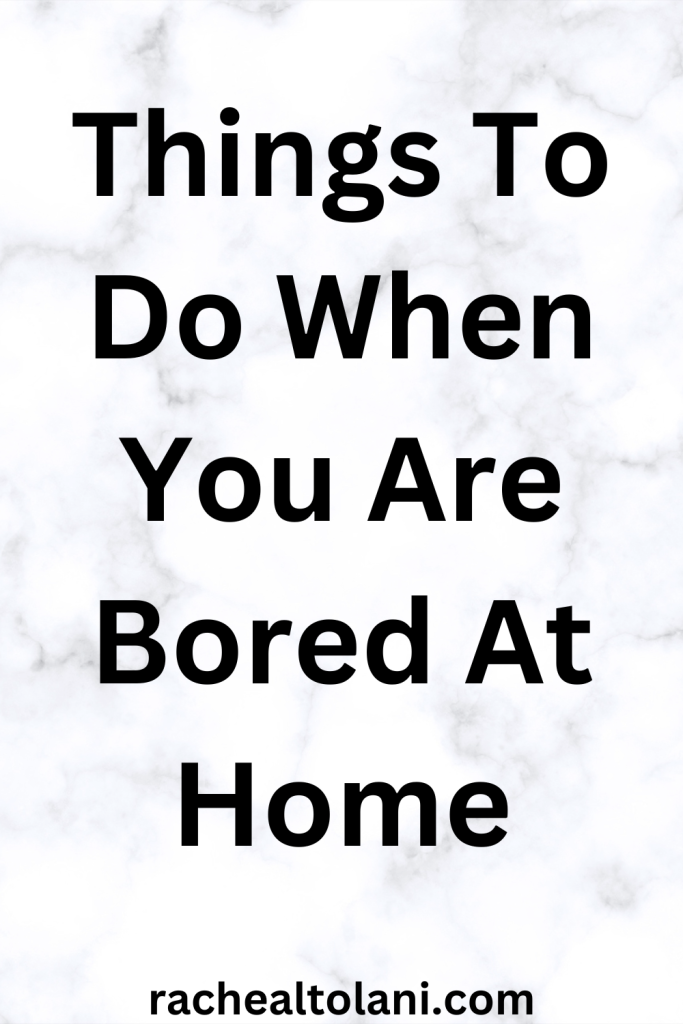 Also read: