Cheating is one of the most significant issues that affect relationships or marriages. When you're suspecting your partner, it takes all your energy, you're not yourself until you see the truth of the matter, simply because you're not sure. Your suspicion may be right or wrong. But it has already affected your mood, and your happiness even if you pretend not to show it, it's eating you up in a bad way. Therefore, these common signs to know if your partner is cheating on you cannot be overlooked.
It's not an easy thing to deal with suspension in a relationship. Because you don't have proof, your partner may deny it. But if you know the signs of a cheating partner, then you can be on top of their game, no matter how smart they think they are.
Watch out signs
Your whole system is collapsing the moment you think that your partner is not faithful to you anymore. So it's good to know the sign of cheating so that you can know how to address the issue in a proper way. Because a lot of the wrong accusation of cheating has affected many relationships. One needs to really know the cheating signs to watch out for in your partner.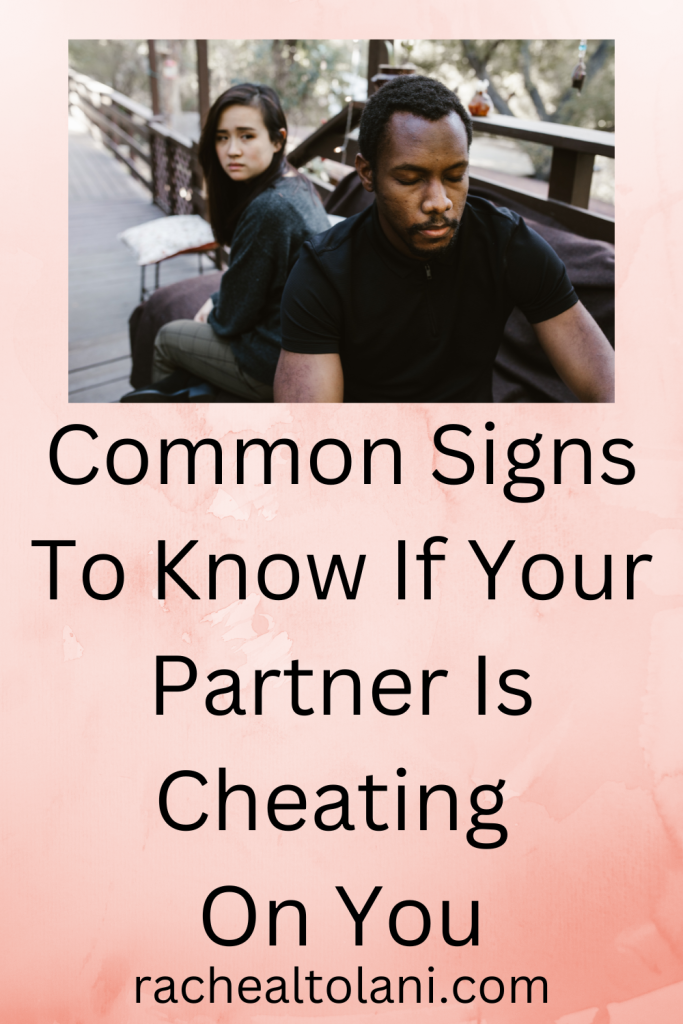 Secrecy
By the time the secret comes out, you will be wondering when, how, and where. But those signs have been there all along but you didn't recognize them. All those little changes in your partner are the signals to the heartbreak you're having now.
Since cheating is cloaked in secrecy, the person is doing their best not to arouse suspicion in their partner," says licensed marriage and family therapist Lesli Doares, author of Blueprint for a Lasting Marriage. "The cheater's goal is to not get caught and then have to deal with the consequences. They strive to make everything appear normal."
At the same time, people tend to draw conclusions about their partner based on their pre-existing beliefs, says psychologist Paul Coleman, Psy.D., author of Finding Peace When Your Heart Is In Pieces. So if you tend to be a trusting person, it can be easy to overlook the less-obvious signs of cheating.
You need to open your eyes to those signs your partner is displaying when they're cheating on you. One or two obvious signs might not be enough for some chronic cheaters. But knowing some reasonable signs can be of help to you if you start doubting your partner.
Here are some common signs to watch out for.
Suddenly a change of schedule
Some work has a stable time schedule and if something happens, there is always a tangible reason for it. "Someone who must 'work late' all of a sudden at times that go beyond a reasonable explanation may be cheating," Coleman says.
Even though working extra hours might be true if they have a new job or new project. It's understandable, besides that just sudden change without any of these is an excuse for cheating.
They become unreachable swiftly
Someone you've been talking to at some point becomes unreachable suddenly something is fishing. Change is an element that when it happens, either small or big you will notice it. If you can't get in touch occasionally, it's okay they might be busy but when it has become a regular habit. Then they may have skeletons in their cupboard that shows they're hiding something.
"Cheaters need privacy and blocks of uninterrupted time," Coleman points out. "Someone engaged in an ongoing affair must be periodically unreachable." After all, they don't want to risk you hearing suspicious voices or background noises.
Network failure every time you're around them
This is probably the common one. Every time you're around your partner, they cannot receive your phone calls easily, and it is then they suddenly go away from your side and say the network is bad. When you're not with them, nothing wrong with the network. They're trying to hide the conversation from you. It's their secret lover that is calling.
Increase or decrease in sex drive
It's more common for cheaters to decrease the frequency of sex at home. This is because they've already been satisfied outside before coming home. On the other hand, only a few cheaters increase their sex drive with their partners so that their partners will not suspect their secret game.
Changes in their friend's attitude
Sometimes drastic changes in your partner's close friend could be a sign that something is wrong somewhere. Because their friends know all their secrets and may not feel comfortable around them like before. They will feel sorry for you just because you're in total darkness and don't really know what they know about who you call your lover.
Conscious of their telephone
Normally you usually help your partner pick up their call but now you cannot. They suddenly change their password and issue you a warning never to pick up their call. Some will even say it's an important call or business call. That's a red flag that they're keeping a secret from you. When they're always holding their phones 24/7.
They're receiving calls at odd hours that have never happened before. They become scared or nervous whenever they forget their phone. Open your eyes, they're cheating on you.
"These changes are indicative of the deception that cheating always involves and therefore are strong signs of cheating," says licensed clinical psychologist John Mayer, Ph.D., author of Family Fit: Find Your Balance in Life.
They pay more attention to their physical look.
There is nothing wrong with someone taking care of themselves and looking good. Many people chose to do this on some occasions like birthdays, new year's, etc. But if your partner starts to wear expensive designer things and very unusual of them. It has never been their style and way of life. It is worth questioning.
In fact, if it's someone, you will be begging to do some shopping for themselves and just see a drastic way of outfit. The reasons and the time must be reasonable otherwise, they might be dressing to show off or impress their new crush.
Suddenly become busy unnecessarily
When your partner is suddenly extremely busy than normal, it's a sign of cheating. Because it is obvious for a cheater to share their time with two people at a time. They're coming up with a series of excuses to cover up for their partner at home. They don't have time to spend like before, they will never be there when their partner needs them.
This is because their secret lover is also demanding more time. You can challenge your partner when you realize that spending time with you has been greatly reduced. Their response will tell you if they're cheating on you or not. Moreover, if their explanation is not genuine, it's one of the common signs to know if your partner is cheating on you.
You don't know how to do things again
Have you ever thought of this? Your partner that was apparently pleased and happy with you suddenly becomes annoyed over everything you do. Now your food is not tasty anymore, you're dirty. You don't show respect and you're now arrogant. Things they normally love and cherish in you have turned into something else. It's a sign that they've seen someone else and they're trying to compare you with them.
Complain and Nagging
Does your partner start to complain over every little thing? Now they nag and complain 24/7. It could be a sign of cheating. They don't love you like before, what they see now is your weakness and nothing more. When your partner doesn't see any good thing about you again, it's one of the warning and common signs to know if your partner is cheating.
They're lying
Cheaters are always lying because when your partner starts telling you what is not true, you will know their lies. They cannot but lie because of the secret they want to cover. It's a natural sign of cheating. Somebody that tells you they're going to destination A and if their plan changes, there must be a reason for that. When you eventually know that they're not saying the truth, they turn it into a hot argument.
It's one of the common signs to know if your partner is cheating on you.
When you notice some of these signs in your partner, it's better to ask and communicate your feelings. It might be a good thing to question their character. Your observation might be right or wrong, at least you clear your head, and you're at peace if it's not true.
However, suspicion is a big issue that affects trust in a relationship or marriage. It is better to ask them with love what you observe than to be dying in silence with suspicion.
Also read: