Whether it's a special occasion or an ordinary day, telling your boyfriend how you feel is one of the most important things you can do. And when it comes to expressing your love in words, there are so many cute things that you can say. Men love to hear this kind of word from their wives or girlfriend. So the 25 cute things to say to your boyfriend and make him feel great is highly recommended. In this blog post, we'll explore some of the most romantic and endearing things that you can say to your boyfriend.
Importance of sweet words
In any relationship, it's important to show your significant other how much you care about them. Whether it's a simple compliment or an impromptu love note, expressing your affection can mean the world and make all the difference. If you're looking for cute things to say to your boyfriend, look no further. We've got some great ideas that will make his day and remind him how much you appreciate him.
When it comes to relationships, it's often the little things that make the biggest difference. Whether you just started dating or have been in a relationship for years, there are always ways to show your boyfriend that you care about him. Telling him some of these words will blow his mind and make him desire you more.
When you are in love, your feet don't seem to be touching the ground. You feel you are surrounded by nothing but all the good things in life.
Love is a beautiful emotion indeed!
Here are some cute things to say to your boyfriend that will make him feel special and loved.
Sweet Words for Your Sweetheart
1."I love being in love with you" – This is a simple but effective way to show your appreciation and let him know that he makes your heart flutter.
2. "I am so lucky to have you in my life" – Everyone loves feeling appreciated and valued, so this phrase is sure to make him smile from ear to ear.
3. "You take my breath away" – This phrase is often used by people who have butterflies in their stomachs when they see their partner. It is a great way to express admiration for the person you love.
4. "I would be lost without you" – Showing someone how much they mean to us by expressing how lost we would be without them will truly melt his heart.
5. "You are my world" – Letting him know that he means everything to you will make him feel incredibly special and loved.
6. "I trust you with all my heart" – Trust is an essential part of any relationship and letting him know that he has yours will build a stronger bond between both of you.
7. "I can't imagine life without you" – No matter what stage of the relationship, this phrase shows commitment while also reaffirming just how much he means to you!
8. "Seeing your face always brightens my day" – A simple but sweet sentiment that reminds him just how important he is in your life. No matter what kind of day either of you is having.
Lovely things to say to him
25 cute things to say to your boyfriend and make him feel great are ingredients for a stronger and healthier relationship.
9. "My life has been progressing since the day you came into it"
10. "I cannot imagine we've been together for so long, I felt it was like yesterday that we met. I am is so happy that I say yes to you.
11. "I didn't believe there is true love until I came across you. Your love makes me feel great.
12. "Just know that you're such a blessing to me"
13. "You have brought light into my life and it keeps shining and brighter every day"
14. "Thank you for making me complete, because without you, I'm empty.
15. "I long for your cuddles, hugs, and kisses, you make me feel like a queen"
16. Compliment Him Genuinely
A simple compliment is always appreciated. Expressing something genuine about your boyfriend that you genuinely appreciate him. It is a wonderful way to show him how much he means to you. Whether it's "you have such a beautiful smile" or "that shirt really looks good on you". Let him know what you like about him. Cute things to say to your boyfriend is very essential for enhancing intimacy.
17. Tell Him You Love Him
Sometimes, when we get comfortable in relationships, we forget to tell our partners just how much we love them. Take a moment out of your day every once in a while to tell him that you love him. Express it with words and show it through actions. It can be as simple as sending a sweet text message before bed or calling during lunchtime just to hear his voice. A few simple words can go a long way. 25 Cute Things To Say To Your Boyfriend And Make Him Feel Great
18. Write Him a Love Letter
Sometimes the best thing that you can do is take pen to paper and write down all of your feelings in one place. Writing out your emotions gives them more power than they would have otherwise. Take this opportunity to share everything that's on your heart with your significant other. Even if it's short and sweet words. They'll appreciate knowing that you took the time out of your schedule just for them.
19. You make me so happy
A simple statement such as this one can go a long way in making your man feel appreciated and loved by you. Everyone wants to know they bring joy and happiness into someone else's life. So letting your partner know how much he means to you will certainly put a smile on his face.
20. I admire you
It is important for us to feel admired and respected by our significant other. Telling your boyfriend that you admire him for who he is. And what he does shows him that you value his opinions and beliefs. Which is an essential part of any healthy relationship. 25 Cute Things To Say To Your Boyfriend And Make Him Feel Great
21. You are my best friend
One of the most essential parts of any relationship is friendship after all. If you don't have a strong friendship as the foundation of your relationship, things can quickly fall apart. Letting your boyfriend know that he is your best friend will make him feel loved. It also reminds him of how strong the bond between you two truly is.
Romantic Words to Show Your Boyfriend You Care
Showing someone how much we care about them doesn't have to be complicated. Sometimes all it takes are a few sweet and loving words. Expressing our love for each other through words can be done in countless ways. Whether it's through compliments or simply expressing gratitude for being in our lives. Using these cute phrases can really help strengthen relationships and keep those butterflies fluttering.
So go ahead and tell him one (or more!) of these pretty things today and show him just how much he means to you.
Show him that you love him
No matter what cute things you say or do for your boyfriend. Remember that showing appreciation and expressing love will always be appreciated by those around us, especially our significant others. Even if it's something small like giving them an extra hug before bed. Or leaving them an unexpected note on their nightstand. These little gestures are sure to put a smile on their face when they need it most.
Showing someone how much we care doesn't have to be overly complicated. Sometimes the simplest of expressions are the most meaningful.
Whether you say something simple like "I love you" or something more meaningful like "you're my best friend," every kind word counts when it comes from the heart. Use these cute things to say to your boyfriend today and let him know just how special he really is.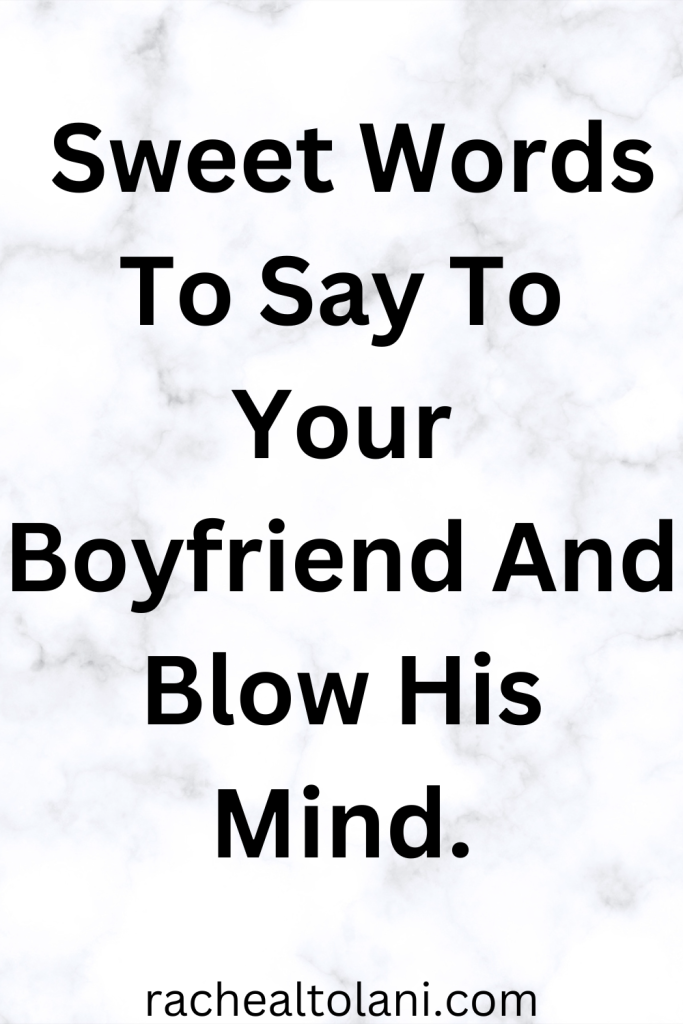 Also read: