Every woman always wants to look young no matter their age. It's a general belief that when you look young, you're much more attractive than others that look older. Also coupled with the pressure in society, no woman wants to look old. How to look younger than your age is highly recommended.
Looking young has been the desire of every woman. It's a matter of the heart because age is just a number. However, every woman wants to look 20 even in their 50s. This is achievable if you can work towards it. How you take care of yourself is what will make you look young and beautiful.
Is it possible to look 30 in your 50s?
Everybody wants to look and feel young always. It's possible to change your real age with your look and if you really desire this, it's advisable to take this into consideration early in life. Thinking about what you eat and your lifestyle is very key. Adoption of these two keys will reflect how you will look now and later in life.
Factors
There are lots of factors that play a huge role in making someone age slowly. Taking care of your health, daily exercise and the way you appear speaks volumes about yourself. Also, recommendations from experts can help you to remain young forever.
Meanwhile, it's a great privilege to grow the way you should, but at the same time, women always like to retain some parts of their youth even as they get older. Generally, everyone wants to look and feel young as best as they can. It enhances happiness and gives a sense of fulfillment when you get compliments from others.
Best Products
It's not only when you are gorgeous and use expensive products that will make you look young. But using the best and appropriate products and taking care of yourself both physically and internally makes the difference.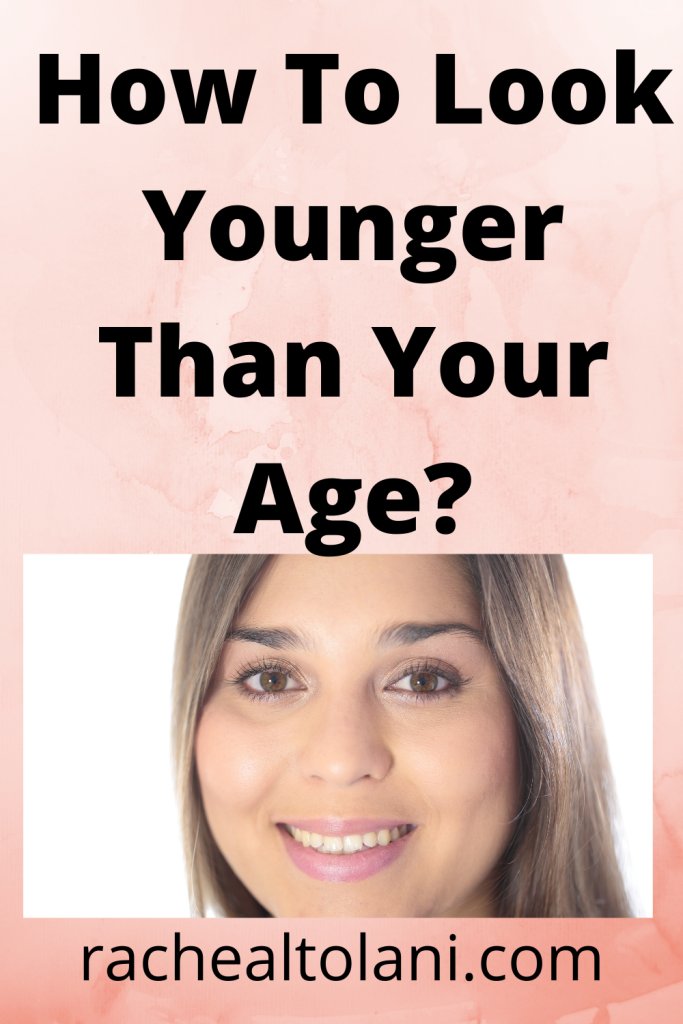 Here are some tips that will help you to look your best and be happy at every stage.
How to look young.
Appearance
Physical appearance tells a lot about you. When you take good care of yourself, you will look younger than your age.
Daily exercise
When you're exercising daily increase the chances of holding your youthful look. It may be just taking 30 minutes to walk with friends and family. it allows your blood to pump normally. It enhances good health and longevity. It's the best tip if you want to keep looking young, look good, and also make yourself stronger.
Social interaction
Do you know that when you have a good interaction with friends, colleagues and family? are part of what will make you look young. This helps you to always be in a good mood and happy.
Smile Always
Research shows that people that smile always tend to look younger than their age than people who have strong faces. Women with a fearful look get wrinkled faster than you can imagine. So, women, this is the best tip if you want to look young, remember to keep smiling. Happy people keep their babyfaces.
Be creative
Creativity is another way to age slowly because your brain is active all the time. You need to feel young mentally, then it will flow through and make you feel young physically. Just a little act of creativity will go a long way in making you feel young always. Anything that will trigger your creative drive is good like a hobby. Some people like drama, music, painting, etc. It improves the white matter in the brain and makes you look young every time.
Include antioxidant to your daily menu
There are lots of health benefits when you eat more antioxidants daily. It helps to fight against inflammation and protect your body against skin damage. It also helps to prevent lifestyle diseases such as diabetes and cancer. If you want nature anti-aging, any kind of berries is highly recommended.
They're both rich in nutrients and have high antioxidant value such as goji berries, blueberries, strawberries, wild berries, and many more.
Drink water
It's important you stay hydrated. When the body is dehydrated, the skin becomes dry and wrinkled. it makes someone look older than their age. It's advisable to drink lots of water at least 2-3 liters daily. Water makes the internal organ function properly and removes harmful toxins from the body.
Drinking plenty of water is one of the best ways to look young. You will always look fresh and It helps to nourish skin cells and improve blood circulation.
Eat Grapefruit
Do you like grapes? There is a unique benefit of eating grapes. It helps to moisturize your skin because of the sorbitol that generates grapefruit sweetness. It has a substance called humectant which helps to attract water and aid absorption. When you eat this fruit, your skin will look like baby skin and makes you look younger and more attractive.
Consume more green and vegetables
When you eat more green vegetables, you will get enough vitamin K, which enhances blood coagulation and avoid skin bruises. Eating more tomatoes protects our skin against UV rays from the sun because of its lycopene.
Research shows that people that consume more fruits and veggies have better skin complexion and protection. It helps to alkalize the body and detox your liver. These are the foods that will make you look younger and fresher: avocado, olives, cacao powder, wheatgrass powder, leafy greens, etc. They're very rich in nutrients and boost your immunity. They're the best ingredients that contribute even to both internal and external beauty.
Take care of your hair
Generally, hair also contributes to our appearance, the way we look. As we grow older, women's hair gets more drying and change in texture. It's highly recommended to regularly use deep conditioning treatment to avoid this dryness in order to keep looking younger.
In order to maintain your hair pH level and still look bouncing and shining. It's advisable to avoid excessive use of hair care products, but 2-3 times per week is good. You can also try to apply some good oil that will nourish your scalp and hair like jasmine and chamomile. Coconut oil is also good, it's cheaper and easily available.
Hairdryers, heat styling tools, and curling iron should be used in moderation because it makes hair dry out and cause lots of damage to the hair.
Your Face
Take good care of your face. The whole baby face look comes from a facial look. Use a very good moisturizing face cream that will get rid of pimples and wrinkles. It's the first attraction to people. Try to use body cream and lotions that contain retinol and remember to eat more ALA-rich foods or supplements.
Flaxseeds, sunflower seeds, and chia seeds are known to contain Alpha Lipoic Acid (ALA). They're food that has anti-aging benefits, so eat them regularly. You will always look young and attractive.
Regular Cleanse
When you cleanse and moisturize your skin regularly helps to protect your skin from dryness. It's very healthy for your body and practices this twice daily in the morning and before going to bed.
How about your hand
Our hands are part of our appearance. Some people can guess your age by looking at your hands. So it is important you use some nice hand cream most especially, those that contain SPF during the day. Exfoliating often also helps to brighten dry hands and make them soft.
Regular sex
Do you know that having sex regular makes you look younger? The emotional feelings get you up and looking fit. According to Gail Sheehy, author of Sex and Seasoned woman, "it's the central motivation of all human activity". Making love with your partner helps you to release the Oxytocin hormone which enables you to feel good. It is also known to reduce stress and depression.
During sex, blood flows to your skin and gives that freshness that makes your face shine, look young, and be beautiful. Do you know that sex is a good exercise that keeps you fit? So feel free to always initiate sex and enjoy your partner, you're nourishing each other's health.
Recommended from experts
Change your mindset about aging.
"Aging gracefully is a mentality—it's acknowledging there are things you can't change, but accepting that there are things you can do to improve the effects of intrinsic aging and deter extrinsic aging." —Dr. Dendy Engelman, celebrity dermatologist
Make working out a priority.
"Movement is your magic pill that prolongs youth. After each workout, your skin looks more glowing and toned as a result of sweat! It's proven that intense workouts speed cellular rejuvenation, metabolism, and slow down aging." —Sylwia Wiesenberg, founder of DOPE Naturally
Things that make hair look older are frizz, breakage, dryness, greying hair, lack of shine, and loss of elasticity. Deeply conditioning the hair can have a huge impact on aiding most of these conditions." —Paul Labrecque, celebrity hairstylist
Start drinking green juice.
"It will literally transform your skin in a matter of days. It helps oxygenate the skin and stimulates lymphatic drainage so it's de-puffing too." —Joanna Vargas, celebrity facialist and founder of Joanna Vargas Skincare
Invest in products with hydrochronic acid.
Hydrochronic acid is a naturally occurring substance in the skin that keeps it hydrated and youthful absorbs 1,000 times its weight in water and expands, helping to blur fine lines and wrinkles. Short term, any product with medium and low molecular weight hydrochronic acid will help plump your skin. —Dr. Lamees Hamdan, founder, and CEO of Shiffa
Facial Massage
Gua Sha facial massage, with the help of a cooling stone tool, is an easy way to help yourself look a little younger because it stimulates lymphatic drainage and circulation, helping rid the face of puffiness, tighten the skin and promote overall radiance. — Dr. Nadia Musavvir, naturopathic and functional medicine doctor
Add the self-care practice into your routine twice a day by using the cooling and tension-busting treatment tool while you moisturize and see the benefits almost instantly.
Eat Your Fat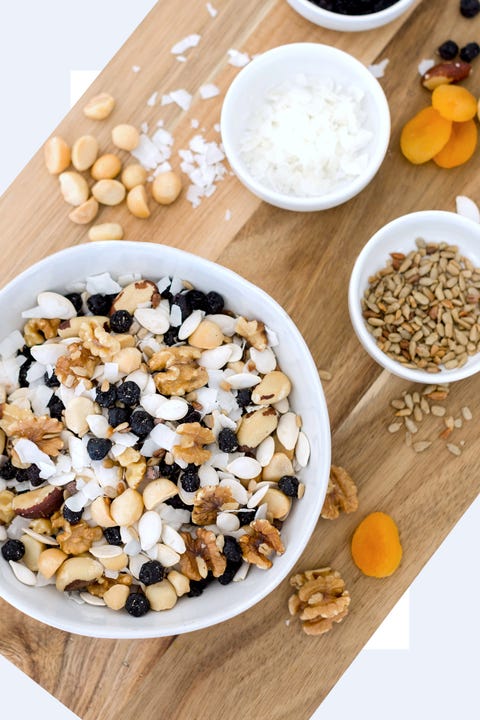 COURTESY OF OMI SKIN NUTRITION
You are what you eat. And while taking care of your skin externally is surely important, if you are not nourishing your body internally, you won't get results that are as impressive. The key: eating healthy fat from sources like avocados, salmon, seeds, and grass-fed beef. which helps support smoother, plumper skin as well as helping your skin retain moisture. Naomi Whittel, wellness expert, author of Glow15, and founder of OMI Skin Nutrition.
Eat Variety of nuts and seeds
"Eating a variety of nuts and seeds is important for keeping wrinkles at bay because they contain essential polyunsaturated fatty acids that your body cannot produce. You can obtain them only through diet. These healthy fats can help decrease your inflammation and protect your skin's natural lipid barrier.
Some of the best nuts and seeds to include in your diet are almonds, walnuts, Brazil nuts, macadamia nuts, pumpkin and sunflower seeds, chia, hemp, and flax seeds." — Naomi Whittel, wellness expert, author of Glow15, and founder of OMI Skin Nutrition.
Hate your hands? Try a laser treatment.
Women's hands start to age in their late 40s and early 50s, so Fraxel (or fractional laser) can help reduce pigmentation such as sunspots. It also helps even out skin tone.—Dr. Paul Jarrod Frank, celebrity dermatologist and founder of PFRANKMD
Use vitamin A on your skin.
Vitamin A derivatives—such as retinol and retinoids—are some of the most important anti-aging ingredients to emerge in the last few decades. Everyone should be using some sort of Vitamin A derivative every night, and I firmly believe it should be a nighttime application, rather than daytime. They encourage healthy skin cell production and help unclog pores, speed cell turnover, even out discoloration, and smooth skin."—Dr. Lamees Hamdan, founder, and CEO of Shiffa
I encourage you to make use of these tips, you will be looking younger and more beautiful and other women will like to emulate you.