The best thing a wife can do for her husband is to pray for him. God will answer when you desire to pray because He loves the heart that seeks him in prayer. It has become my habit as a wife to pray for my husband every day. Do you pray for yours always? As godly wives, we must be on our knees for our husbands and the entire family. This is because the power of prayer in a family cannot be underestimated. I encourage you to make use of these 20 amazing prayers for your husband. You will see how God is answering prayer in your home.
The power of prayer
Have you been struggling to change some of your husband's character or do you think he does not deserve your prayer? Yes, he does. When you pray for him, actually you are indirectly praying for yourself. Do you know that sometimes when we are trying to change our husbands? Through our prayers, you will realize that you are the one that needs to change. You will receive a revelation about yourself through the help of the Holy Spirit. Things will begin to change for better in your home between you and your husband.
This can only happen when you choose to pray for him. This is what I have learned in my early years of marriage. You can never change a man but your prayer does. Through the help of God, I have realized the importance of praying for him daily and the work of prayer in his life.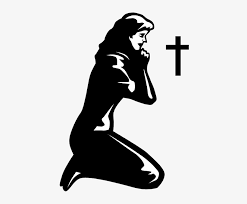 Prayer is a command from God
The bible says in 1 Thessalonians 5, verse 16, pray without season. it is a command from God. When you obey, God is always faithful to his word. Prayer is a connection that brings you closer to God and is a life-changing experience. Do you want to see how God works through prayers? I challenge you to learn from these 20 amazing prayers for your husband. So you will see the hand of God in his life.
I encourage you to take this simple prayer daily to pray for him by using the word of God. Let it be part of your daily routine. This can be used as a guide or a reminder to pray for your husband. So this will improve your prayer life, you can also get inspiration and food for thought for yourself and add your own prayer too. It will motivate you and make you dwell in the word of God.
Prayers
Thank God for his life
Rejoice always, pray continually, give thanks in all circumstances, for this is God's will for you in Christ Jesus. 1 Thessalonians 5: 16-18.
Thank you, Lord, for the life of my husband. I appreciate you for the gift of this wonderful man to me. Thank you for the blessings and love you have showered on him. Thank you for making away for him in every situation. I pray you will give him the heart of gratitude in all circumstances in Jesus' name.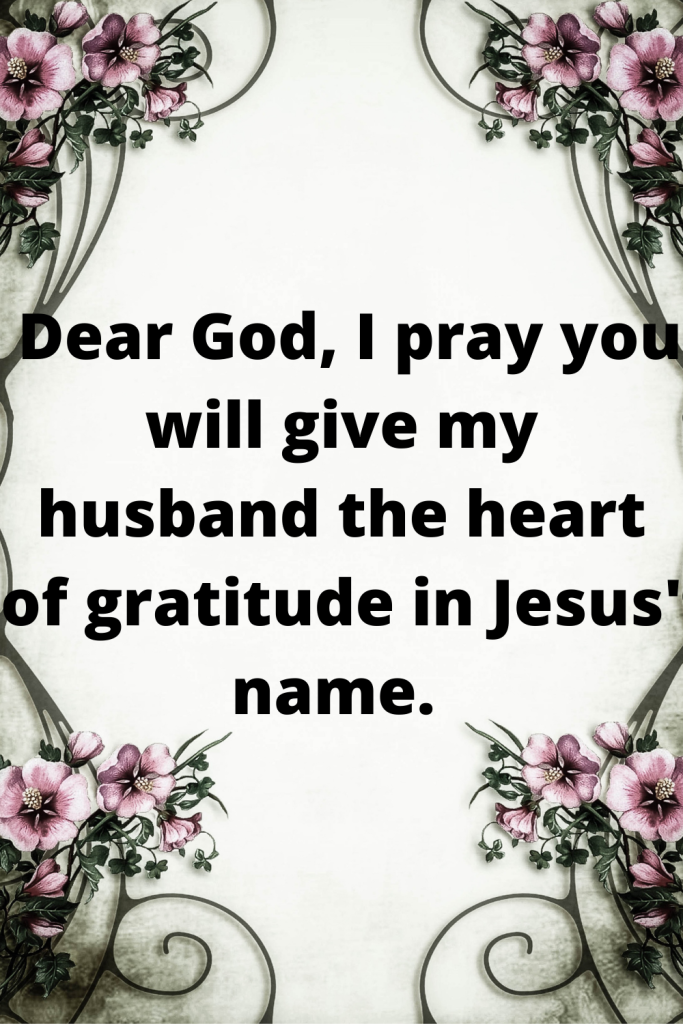 Help me Lord to always show my appreciation to him in my deeds and actions. Do not let me take him for granted as the spiritual head of our home.
Pray for his protection
The angel of the Lord encamps around those who fear Him and rescues them. The Lord will protect you from all evil. He will keep your soul.
Lord, I pray you will protect my husband from all evil. Let your guiding angels surround and keep him always.
Pray for provision
Ask, and it shall be given to you. Seek, and ye shall find. Knock, and it shall be opened unto you. For every one that asks receive, and he that seeks finds, and to him, that knock it shall be opened.
Heavenly Father, provide for my husband. Meet all his needs financially, materially, and spiritually. Whenever he asked, let him receive in abundance. Answer him when he calls and opens the windows of heaven unto him.
Prayer for his heart, soul, and mind
For He satisfies the longing soul And fills the hungry soul with goodness. Psalm 107: 9.
Lord, I thank you and praise your holy name. I commit my husband's spirit, soul, and body unto you. Please guide his heart and soul and protect him from every temptation he might be facing. Cause his soul to be longing for you and fill him up with your goodness. In Jesus' name, I pray.
Pray for his work
Do you see a man who excels in his work? He will stand before kings. He will not stand before the unknown. Proverb 22: 29.
Oh Lord, let my husband excel in his work. Prosper the work of his hand and let his work take him to the higher places on earth. I pray you will give him divine wisdom and let him be diligent in his work. Give him the strength to do the work you have given him and don't let him be tired in Jesus' name. Let him always stand out in whatever he does.
Prayer for Courage
The fear of the Lord leads to life, And he who has it will abide in satisfaction. He will not be visited with evil. Proverbs 19: 23.
God, I pray you will plant your fears into my husband's heart. Let him be satisfied with whatever you have blessed him with. I pray you will remove evil from all his ways.
Pray for his finances
Keep your lives free from the love of money and be content with what you have, for God has said, never will I leave you, never will I forsake you. Hebrew 13: 5.
My Lord, the issue of money always causes a huge problem in a home. God, please give my husband divine wisdom to deal with our finances. Thank you, Lord, for your blessings upon his life. I pray you will help him to continue to honor you with his finance. Desire to apply some of these 20 amazing prayers for your husband. it will help you to solve some of the financial problems in your home by praying over his finance. God makes a way through prayers.
Pray for his leadership
If any of you lack wisdom, let him ask of God, that giveth to all men liberally, and upbraideth not, and it shall be given him. James 1: 5.
Thank you, Lord, for making my husband the leader of our home. I pray you will give him the grace and wisdom that he needs to be a good leader in our family.
Pray for His Spiritual life
But grow in the grace and knowledge of our Lord and Savior Jesus Christ. To him be glory both now and forever, Amen. 2 Peter 3:18.
Lord thank you for your word. Let my husband continue to grow in your grace and knowledge of Jesus Christ. Bring him closer to you every day in Jesus' name I pray.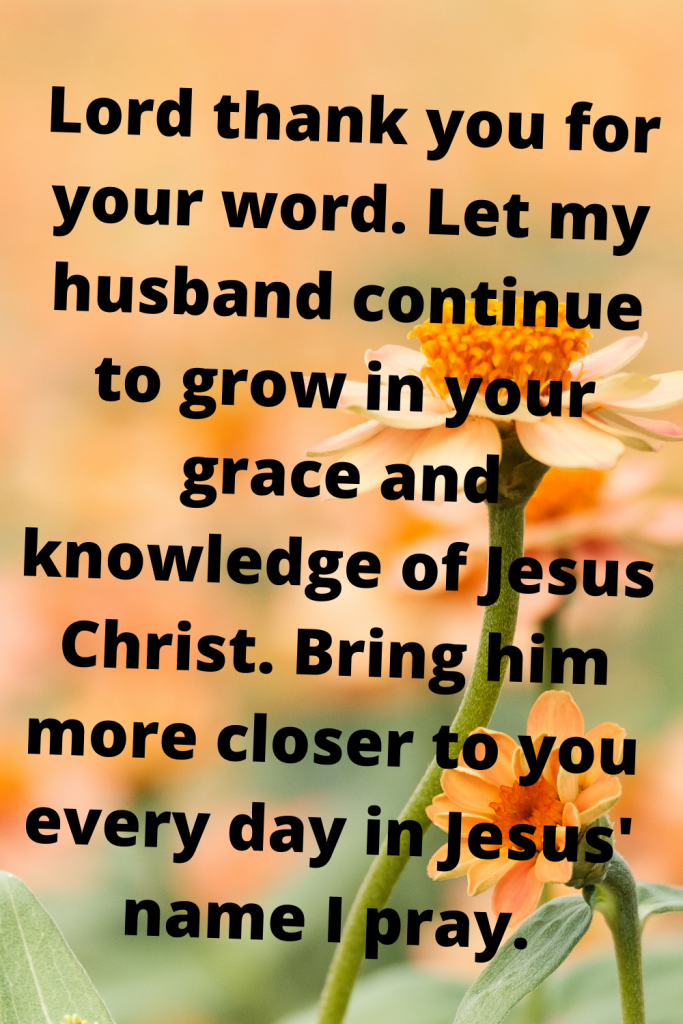 Pray for his Health
Beloved, I pray that you may prosper in all things and be in health, just as your soul prospers. 3 John 1: 2.
Dear Father in heaven, I pray that my husband will prosper in everything he does. He will be in good health, even as his soul prospers. Lord, I pray you will satisfy my husband with long life and a sound mind.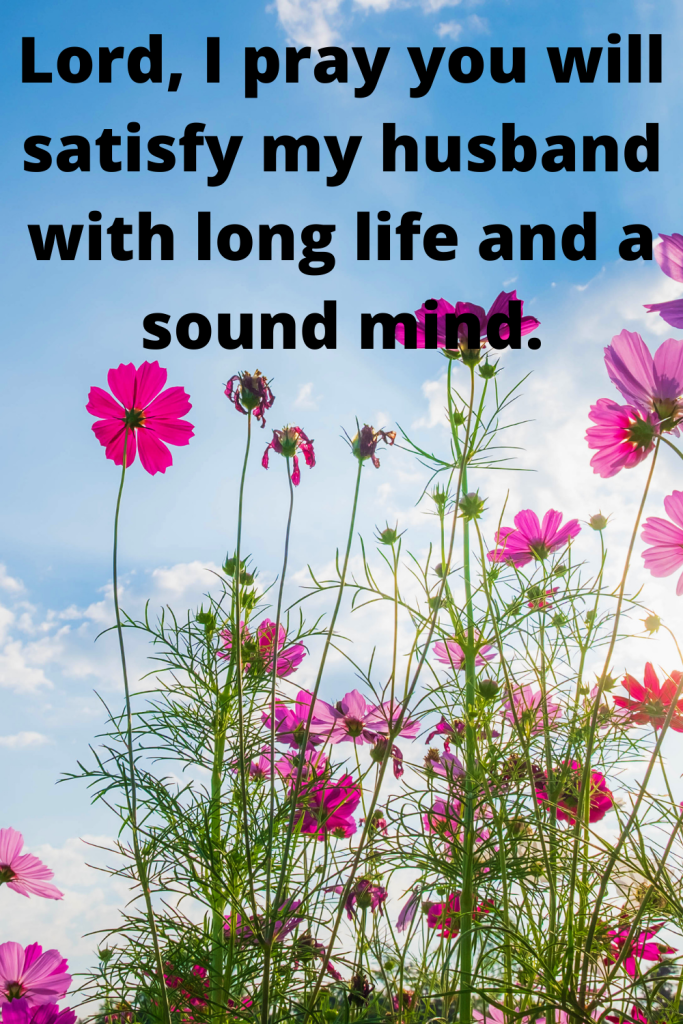 Pray for understanding
Likewise, husbands, live with your wives in an understanding way, showing honor to the woman as the weaker vessel, since they are heirs with you of the grace of life, so that your prayers may not be hindered. 1 Peter 3:7.
Heaven Father, thank you for this revelation. I pray you will help my husband to understand what the bible says about how to live and treat me. Give him the grace to honor me. God, help me also to respect and honor him too. So that nothing will hinder our prayers in Jesus' name.
Powerful Prayers For Him
Pray for him to do the will of God
Not with eyeservice, as men-pleasers, but as the servants of Christ, doing the will of God from the heart. With goodwill service, as to the Lord, and not to men. Knowing that whatsoever good thing any man doeth, the same shall he receive of the Lord, whether he be bond or free. Ephesians 6: 6-8.
Lord, let my husband work for you wholeheartedly. please help him to render a good service that is acceptable unto you. So let your will be done in his life. Give him the heart to love and trust you completely. God, don't let anything take him away from your presence.
Pray for good communication
Let no corrupt communication proceed out of your mouth, but that which is good to the use of edifying, that it may minister grace unto the hearers. Ephesians 4: 29.
Dear God, please help my husband to always speak the words that will glorify you. When corrupt words are coming out from the mouth of others, please keep his words pure for you. May Holy Spirit guides his utterance anytime he speaks. Let his words be full of God's wisdom to edify our marriage and even other people around him. These 20 amazing prayers for the husband are highly recommended to every wife. You can get some words of inspiration for your own prayer.
Pray for a good friendship
As iron sharpens iron, so one person sharpens another. Proverbs 27: 17.
God, please provide a good friendship for my husband. I pray that you will always be with him, so he will never be alone. Surround him with a friend that will lift him, encourage him, and be of help for him in time of need. Let his helper of destiny locate him in Jesus' name.
Prayer to overcome temptation
And lead us not into temptation, but deliver us from the evil one. Mathew 6: 13.
It is not only sexual temptation that men are facing. Temptation can come in so many ways. It could be little lies and others that we always refer to as white lies, cheating, unforgiveness, and much more. They are all sins that can affect our relationship with God. There is a need to pray for our husband to overcome all these challenges.
Every day is full of temptation and evil. God, please help my husband to overcome every temptation he may face in every situation. As the bible says flee from every appearance of evil, So Lord helps him to always run away from evil. When temptation comes, help him to be strong and hold on to your words. Help him to make the right decision in every hard situation.
How these 20 amazing prayers for your husband will help him to fulfill his destiny.
Pray for your husband to be a good father
Fathers, do not provoke your children to anger but bring them up in the discipline and instruction of the Lord. Ephesians 6: 4.
Dear Lord, thank you for the fatherly love that we are enjoying. Help my husband to be a loving father to our children.
The role of a father in a family is very essential. Prayer for your husband to be a good father to your children can not be overlooked. I pray that God will help my husband to be a good example to our children. Help him to be patient and correct our children with love. Give him the grace to discipline and teach the children the way of the Lord. So help me Lord to be the best partner to support him to raise godly children for you.
Even if are not yet married, you can pray to prepare your future husband to be a godly father.
20 amazing prayers for your husband are the Best Prayers for your man.
Pray for Guidance
Trust in the Lord with all thy heart, and lean not unto thy own understanding.
In all thy ways acknowledge him, and he shall direct thy paths. Proverbs 3: 5-6.
Heavenly Father, please guide my husband in everything he does. Lord takes the lead in his life as he makes any decision both great and small. Let him trust you with all his heart. So he will not rely on his strength and understanding. So let him acknowledge you in all his ways and direct his path. Help him to always take a godly decision in any area that is struggling.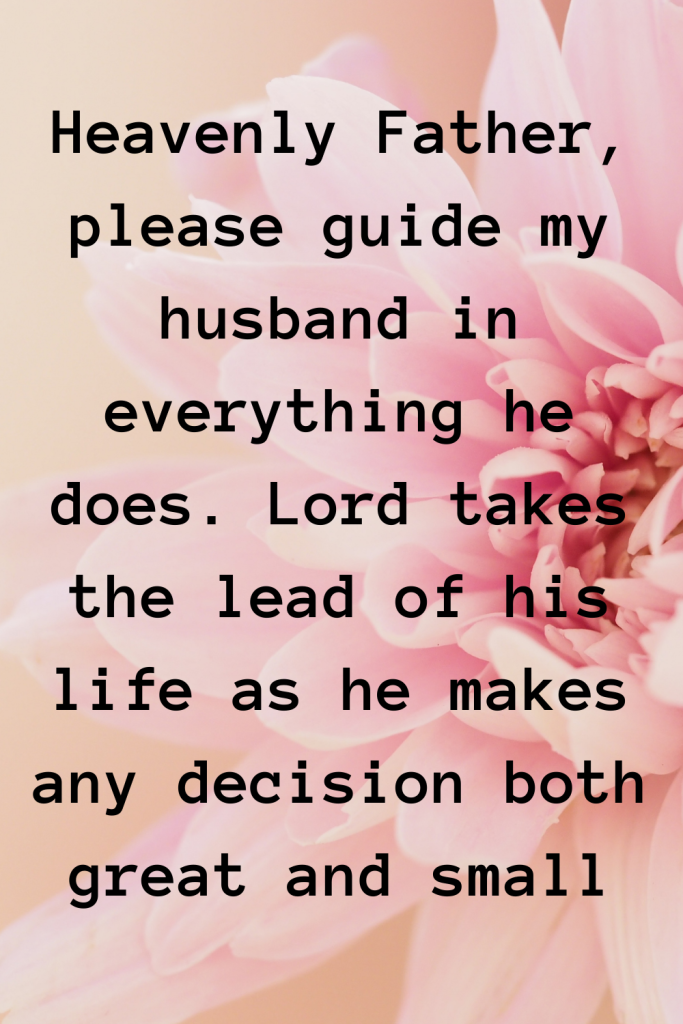 Prayer for strength
So do not fear, for I am with you. Do not be dismayed, for I am your God. I will strengthen you and help you. I will uphold you with my righteous right hand. Isaiah 41: 10
Lord strengthen my husband today. Let him always remember that your strength and grace are sufficient for him. Uphold him, Lord, when he is weak and down. Let him know that you are with him all the time. Please help him to deal with any fear that wants to grip his heart and replace it with faith. These 20 amazing prayers for your husband will give you more understanding of the word of God and your prayer life will be transformed.
Pray for peace for your husband
Peace I leave with you, my peace I give to you. Not as the world gives do I give to you. Let not your hearts be troubled, neither let them be afraid. Therefore, since we have been justified by faith, we have peace with God through our Lord Jesus Christ. John 14: 27.
I choose to pray this prayer for my husband every day. Because when he has peace, there will be peace at home. Please God give my husband peace in every area of his life. Endow him with your eternal peace. There are so many things that can trouble him in this world. Take away anything that can make him afraid, and so give him the peace that is like a river.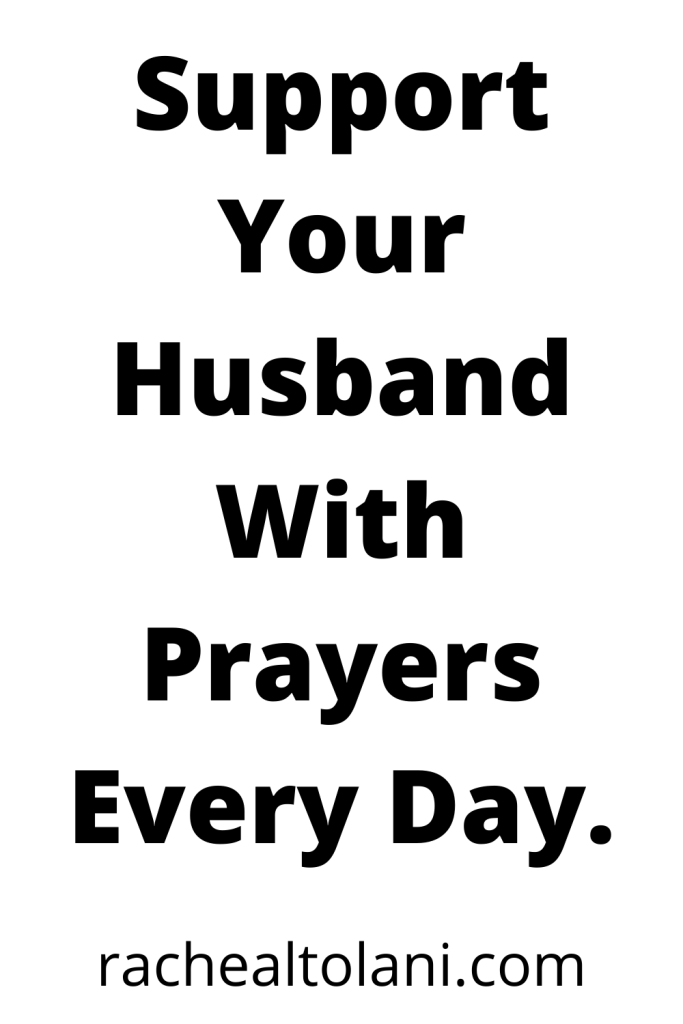 Pray for his faith
Now faith is the assurance of things hoped for, the conviction of things not seen. Hebrew 11: 1
You are building your own faith particularly when you desire to pray for your husband. Praying for him has helped me to grow in faith. We all have a lot of expectations as women in our homes, but this can only come to manifestation by having faith in God through prayers.
Heavenly Father, please help my husband to grow in faith and in your love every day. As the bible says, we can not please God except by faith. Lord, let the life of my husband please you. Let all his services be like a sweet smell unto you. Lord, I pray you will open my eyes to understand him more and let me also grow in faith. This is one of the importance of these 20 amazing prayers for the husbands.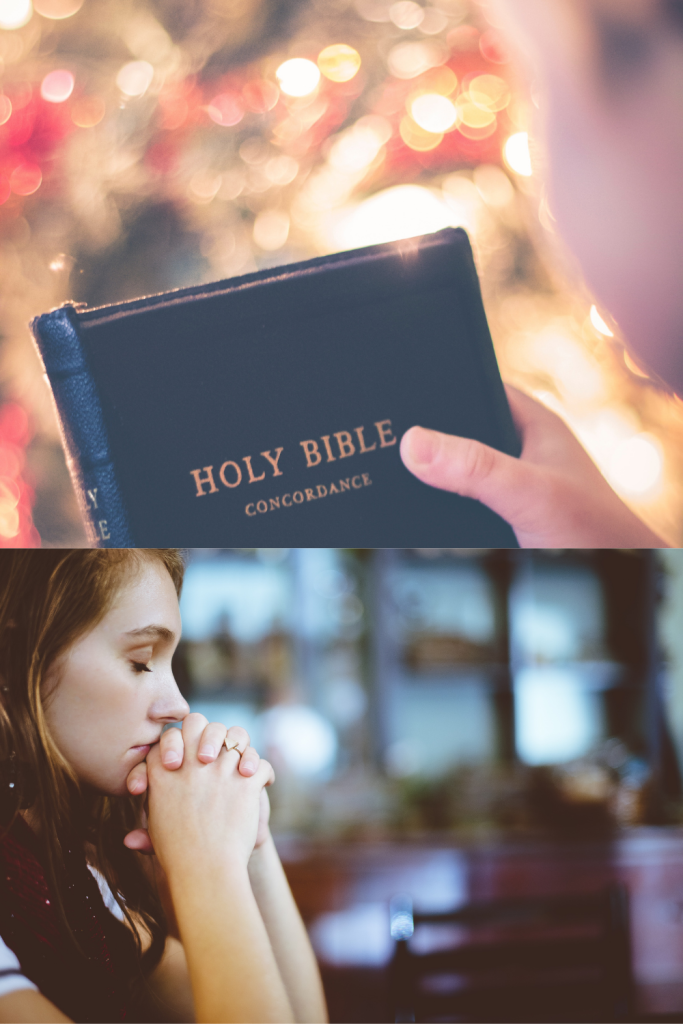 It is good to respect and honor our husbands. But when you stand up for him in prayers, you are showing your greatest support for him. This is the best gift a woman can give to her husband daily. Because it covers every area of his life. I encourage you to be a praying woman today and you shall reap the fruits of your labor.
 prayers to forgive yourself can help to release the guilt and shame you may be carrying around. Give yourself a rest, and let go of the past. You deserve it.
Also read:
25 wonderful Bible Verses for love and marriage
How To Be A Better Wife: Qualities that a man is looking for in a woman