Marriage is a beautiful bond between two people who love and cherish each other. However, as time goes on, couples may face challenges and disagreements that can threaten the stability of their relationship. One of the most toxic behaviors that can harm a marriage is silent treatment. It can cause emotional distress, and resentment, and even lead to the breakdown of the marriage. In this blog post, we will uncover the devastating effect of silent treatment in relationships and how to address it.
Marriage is a beautiful union of two people sharing their lives together. But sometimes, it is not a bed of roses. Every relationship has its ups and downs, and at times, it may seem impossible to communicate with your partner. What do you do when you are upset with your spouse? Do you vocalize your emotions or give them the silent treatment? However, we will discuss the effect of silent treatment in a marriage and how it can damage the relationship.
What is silent treatment?
Silent treatment, also known as stonewalling, is a form of emotional abuse, where one partner may intentionally ignore or avoid the other partner's attempts at communication. It can occur in any aspect of the marriage, from petty arguments to significant issues. Moreover, The "silent treatment" partner may refuse to talk, react, or engage in any form of conversation. Leaving the other partner feeling neglected, disrespected, and unheard.
Communication
Communication is key to any successful relationship. However, when one partner decides to use the silent treatment, it can harm the marriage. The silent treatment is a passive-aggressive communication tactic, where one partner refuses to speak to the other partner to punish them or gain control. Meanwhile, how can you overcome this harmful behavior? The answer lies in effective communication.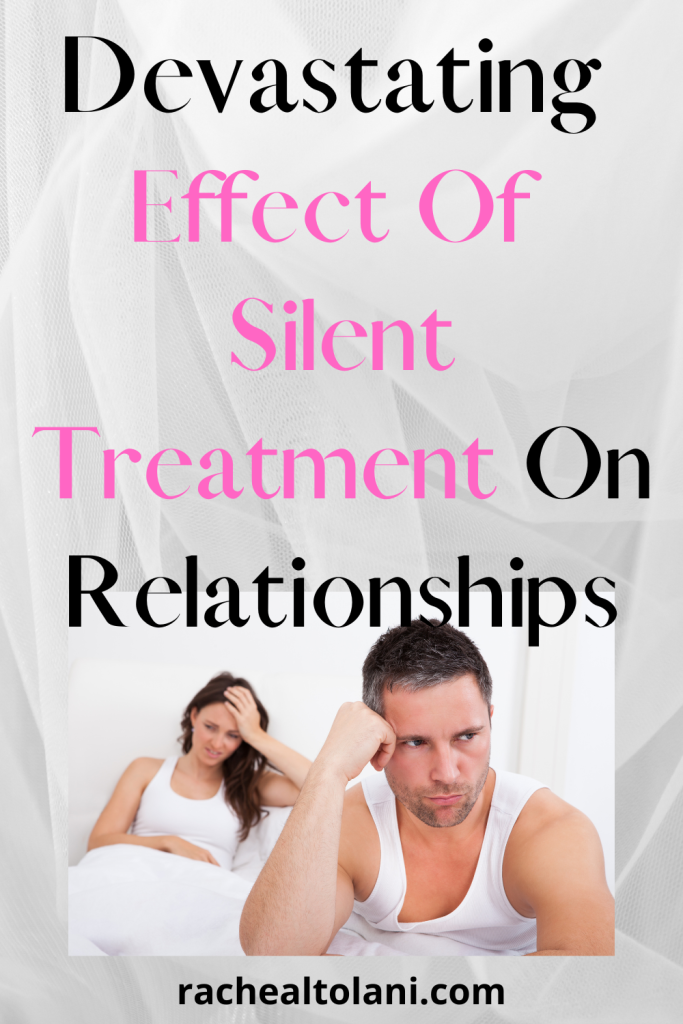 The impact of silent treatment in a marriage
The silent treatment can have a profound negative impact on the marriage or relationship. It can lead to emotional distress, resentment, and communication breakdown. It can escalate misunderstandings instead of resolving them, lowering the couple's ability to work through issues together. Moreover, it can decrease intimacy and create feelings of fear and abandonment. This can also ultimately lead to an imbalanced and unhealthy partnership.
The silent treatment can damage the relationship or marriage and even the person who experiences it.
What Silent Treatment Does In A Marriage?
It creates a communication barrier
The silent treatment can create a communication barrier between the partners. When one partner withdraws from communication. It can cause the other partner to feel ignored, and unimportant, and shut down communication altogether. This can then breed resentment and frustration, ultimately leading to the destruction of the relationship.
It reinforces negative patterns
Silent treatment reinforces negative patterns that are detrimental to the relationship. It can become a regular response to conflict and lead to a cycle of silence, distance, resentment, and anger. When this cycle becomes ingrained in the relationship, it can be challenging to break out of it.
It leads to emotional abuse
Silent treatment can be a form of emotional abuse. It can be a weapon that one partner uses to control and manipulate the other. It can cause the other partner to feel unsafe, unloved, and unwanted, leading to emotional distress and trauma.
It prevents problem-solving
Silent treatment prevents problem-solving and resolution. Communication is the key to resolving conflicts and making the relationship work. Without communication, you cannot work through your differences and find solutions to problems. It only leads to the accumulation of unresolved issues and resentment.
In a marriage, silent treatment can be an escape from dealing with real issues and conflicts. When one partner refuses to communicate, they are avoiding confrontation and accountability for their actions. This can lead to a pattern of negative behavior, where silent treatment is used as a way to avoid any kind of conflict or disagreement. This can make the other partner feel neglected, unimportant, and disconnected.
It damages the relationship
The silent treatment can irreparably damage the relationship. It can create a sense of disconnection, and over time, can become the catalyst for the breakdown of the marriage. Communication is the foundation of any healthy relationship, and without it, the relationship is doomed to fail.
Can Become a cycle of destruction
In effect, the silent treatment can become a cycle of destruction that can break down even the strongest relationships. Instead of avoiding confrontation, it is important for couples to learn how to communicate in a healthy and constructive manner. This means learning how to listen actively, expressing themselves honestly and openly, and working through conflicts together. Therapy and counseling can also be valuable tools for couples looking to break free from the cycle of silent treatment.
How to address the issue of silent treatment
Understanding the roots
The silent treatment behavior often stems from insecurities, lack of effective communication, or power dynamics. It may indicate unaddressed issues and negative emotions that require empathetic and effective communication to be resolved. Hence, both partners must work together to identify the root cause of the behavior and address it as soon as possible. In addition, the silent treatment is a killer of joy and happiness in a relationship.
Resolving the silent treatment requires both partners' participation and commitment to effective communication. One of the most crucial steps is for the affected partner to assert their feelings and boundaries. And express their desire for open and authentic communication.
Building a healthy and happy marriage
Creating a healthy and happy marriage requires both partners to be mindful of their actions and words. They must work together to improve communication skills, identify and resolve issues, and build a nurturing and supportive environment. It ultimately requires commitment, patience, and a shared vision of the couple's future.
Seek Help
Seeking the help of a professional therapist may also be helpful to navigate the underlying issues and provide effective solutions.
The Power of Silence: How The Silent Treatment Could be Destroying Your Marriage
Silent treatment can have a devastating effect on a marriage, threatening the bond between the partners. Hence, it's essential to identify the root cause of the behavior and start resolving it as soon as possible. Effective communication, empathy, and seeking a professional therapist's help can aid in building a healthy and happy marriage.
Remember, a successful and joyful marriage requires both partners' efforts, and with dedication and teamwork, anything is possible.
A healthy marriage requires communication, mutual respect, and a shared sense of commitment. Silent treatment is toxic to the relationship and can lead to an emotional chasm between partners. It is imperative that couples communicate with each other, no matter how difficult it may seem. It's very essential for both couples to communicate effectively with each other at all times. Remember, marriage is a partnership, and it takes both partners to make it work.
Harmful Effect Of Silent Treatment In A Marriage
The silent treatment can have a devastating effect on a marriage. It can break down communication, trust, and intimacy. The cycle of negativity can lead to further misunderstandings and resentment, and ultimately the breakdown of the relationship. It is important for couples to learn how to communicate openly, honestly, and constructively.
This may require seeking professional help or support. Remember, communication is the key to a successful and happy marriage. Don't let the silent treatment take that away from you.
How To Avoid Silent Treatment In Your Marriage?
The silent treatment causes emotional harm to both partners in the marriage. The recipient of the silent treatment may feel ignored, hurt, and angry, while the provider may feel satisfied with the control they have gained over the other partner. This cycle can lead to a breakdown of communication, trust, and intimacy. When communication breaks down, couples may begin to make assumptions and judgments about each other's thoughts and feelings. It can lead to further misunderstandings and resentment.
It is important to note that the silent treatment is not always intentional. Sometimes, one partner may withdraw or shut down during conflicts as a defense mechanism. They may fear being judged, misunderstood, or rejected. In these cases, it is essential to be patient, understanding, and supportive. It's avoidable if you choose to talk to your partner and address the issue immediately.
It's advisable to build stronger communication skills and understanding with your partner. A blissful and long-lasting relationship is inevitable.
Also, read: