Birthdays are a special occasion to celebrate the love and affection shared between two people. As you plan to surprise your boyfriend/husband on his birthday, it's natural to feel overwhelmed with ideas and questions about how to make the occasion memorable. One of the best ways to make your boyfriend feel loved on his birthday is to surprise him with a romantic gesture that he will remember for years to come. Therefore, how to surprise your boyfriend on his birthday is highly recommended.
In this blog post, we will explore the ultimate ways to plan a romantic birthday surprise for your boyfriend without breaking the bank or investing too much of your time. From simple but heartfelt gestures to elaborate surprises, we have got you covered.
Romantic Birthday Surprise Ideas For Your Boyfriend/Husband
Every relationship has special moments worth celebrating, and a birthday is no exception. If the love of your life is having a birthday, it's up to you to make it unforgettable. Birthdays come once a year, and they are the perfect opportunity to show your affection and celebrate your boyfriend's existence. We understand that finding the perfect birthday gift or surprise can be daunting, but don't worry. Here are some better ideas for you.
Birthdays hold a special significance in everyone's life, and when it comes to your loved ones, you definitely want to make it a memorable one. If you are looking to surprise your boyfriend/husband on his birthday, then you are in the right place. Planning a surprise can be a bit tricky, but with the right approach, creativity, and some effort, you can create a romantic birthday celebration that your boyfriend will never forget.
Here are some tips to help you plan the perfect birthday surprise for your special someone. They're romantic birthday surprise ideas for your boyfriend that will make him feel special and loved.
A Thoughtful Breakfast in Bed
It's always the small things that have the biggest impact. Start the day by surprising your boyfriend with breakfast in bed. You could prepare his favorite food and surprise him with some sweet treats. Don't forget to add a little note sharing all the reasons why you love him and wish him a happy birthday.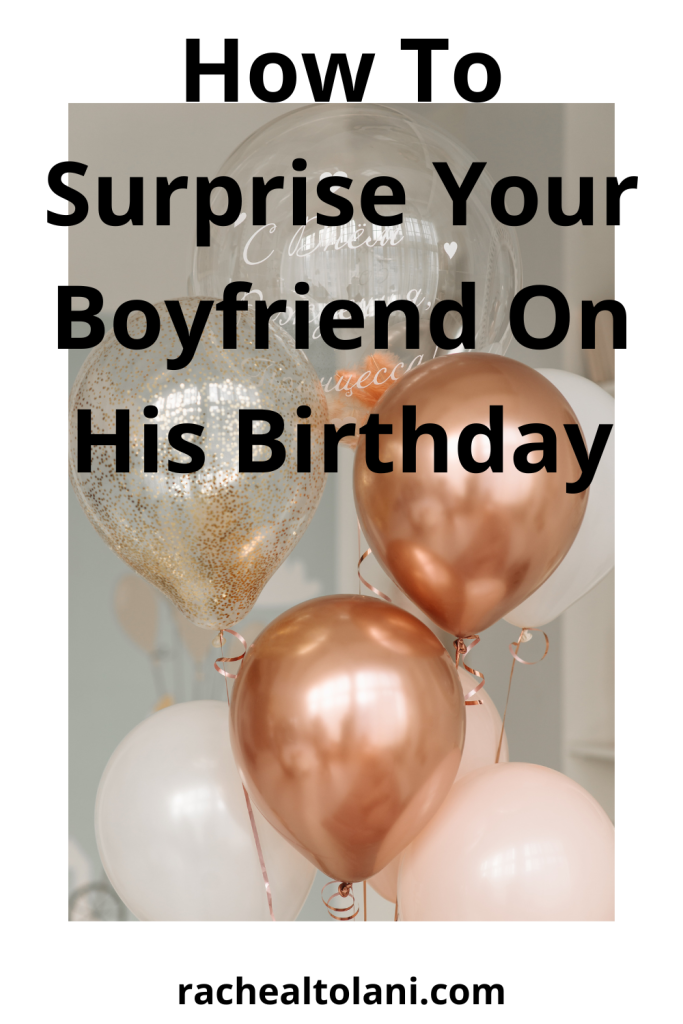 A Personalized Scavenger Hunt
For the adventurous soul, consider organizing a scavenger hunt around your town. Create customized clues that lead to different places that connect with your boyfriend's aspirations and dreams. You can even add a personalized gift at every step. Make sure that each step is a surprise that will make his day even more special.
If your boyfriend is the type to enjoy solving puzzles or riddles, a scavenger hunt might be perfect for his birthday surprise. You can hide birthday gifts in different locations and leave him hidden clues that will lead him to the next spot. The final location can be where you have planned a romantic dinner or a tiny party with your close friends. It will be exciting and fun, and your boyfriend will appreciate the creativity that will go into it.
A Bespoke Picnic in the Park
Pack a thoughtful basket of a gourmet meal and a bottle of your boyfriend's favorite drink. Find a picturesque spot near to your place and set up a picnic for the two of you. The surprise of spending a romantic afternoon in nature is sure to leave your boyfriend feeling loved and cherished.
A Movie Night with All His Favorites
Organize a movie night to binge-watch all your boyfriend's favorite movies and sitcoms. Remember to make the environment cozy by adding lots of pillows and blankets. Make your partner feel extra special with personalized snacks and the ultimate gift. The joy of spending quality time together will strengthen your bond.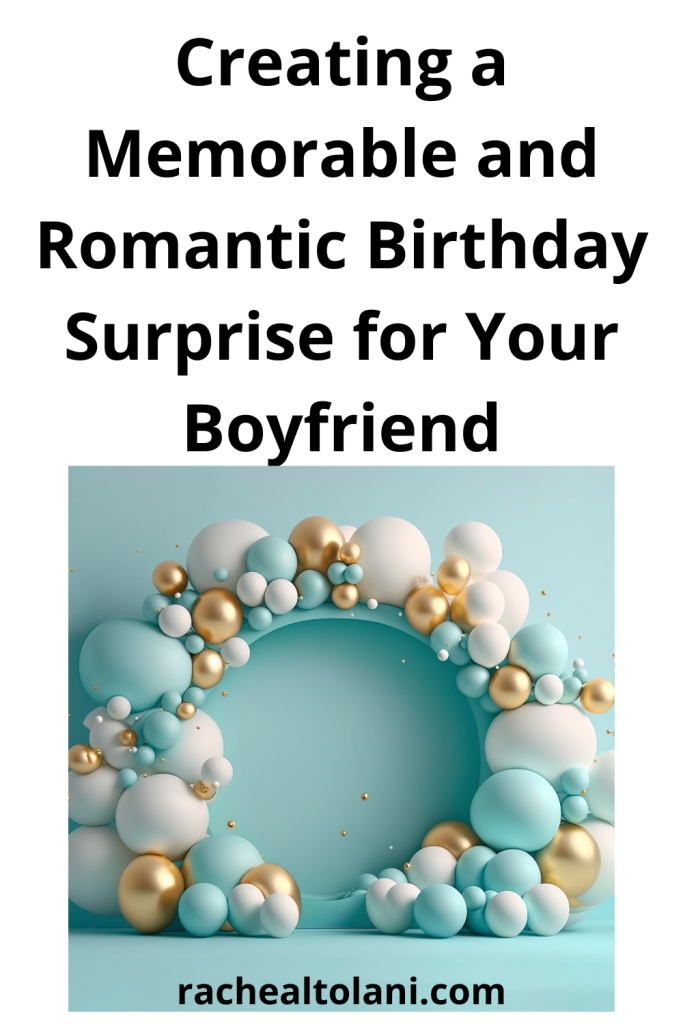 A Spa Day for Two
A day at the spa is one of the nicest ways to relax and rejuvenate together, especially on birthdays. You could begin the day with a hot stone massage or a couple's pedicure followed by a soak in the jacuzzi. Together, you and your boyfriend/husband will strengthen the bond between each other and also relax and unwind from all the stress.
A Surprise Dinner
Are you wondering how you can make your boyfriend's birthday more special? Nothing is as romantic as a surprise birthday dinner for your boyfriend. Choose his favorite restaurant or cook him his favorite meal. You can decorate your dining table with his favorite flowers and candles for an intimate ambiance.
After dinner, you can indulge in birthday cake, champagne, and coffee or tea. Your boyfriend will appreciate the effort you put into making his birthday memorable.
Personalized Birthday Gift
If you want to give your boyfriend a personal birthday gift, think outside the box and give him something special. You can give him a customized birthday gift such as a photo album, a scrapbook, or a photo collage. Gather your best couple photos and create a personalized gift that will remind him of all the cherished moments you've shared together. For an added touch, you can get him a handwritten letter or a card that expresses your love and gratitude.
A Romantic Getaway
Surprise your boyfriend with a romantic getaway on his birthday. Choose a destination that both of you will love, such as a beach resort or a cozy cabin in the woods. A change of scenery will be a welcome distraction from your everyday routine. You can plan a romantic candlelit dinner, a couples' massage, or a sunset cruise. A weekend getaway will be a fantastic opportunity to relax, rekindle your love and create happy memories.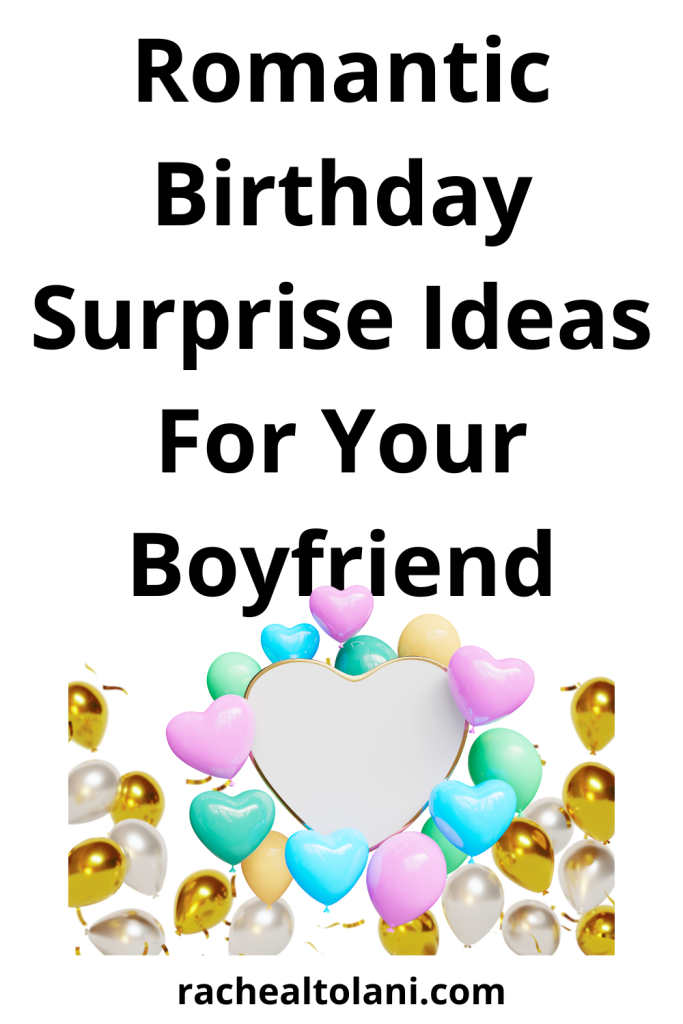 Watch a Sunset Together
If you live near a beach or a scenic spot, this could be an opportunity to watch the sunset together. Pack a picnic basket with all sorts of goodies and head out early in the evening so that you can set up your spot in time. You can also bring a camera to take some memorable pictures together as the sun goes down. Sitting together and watching the sunset is perfect for appreciating life's simple pleasures. Your boyfriend will be touched by the effort and the thoughtfulness.
Plan and Prepare
Planning is the first and most important step of the whole surprise event. You need to start planning weeks ahead to ensure that everything is in its place and well organized. You can start by creating a checklist of all the things that you need for the surprise party, such as candles, balloons, cake, snacks, drinks, etc. Once you have the checklist, start buying or ordering everything ahead of time to avoid any last-minute rush. You can also consider getting creative by creating some DIY decorations or baking a cake yourself.
Personalize the Surprise
Making the surprise personalized is an excellent way to make it more special and memorable. You can plan the surprise according to your boyfriend's interests and likes. For example, if he loves sports, you can organize a trip to his favorite stadium or buy him tickets to his favorite team's game. You can also create a custom photo album filled with your memorable moments together, write a love letter, or put some thoughtful gifts together that you know he will appreciate.
Set the Atmosphere
The surprise party's atmosphere plays a significant role in making it more romantic and special. You can decorate the party area with candles or fairy lights to create a cozy and intimate ambiance, you can also create a playlist filled with your favorite music or songs that hold meaning for you and your boyfriend. You can also transform your living room into a dance floor and surprise him with a slow dance. The critical thing to remember is to keep the atmosphere romantic, intimate and focused on your relationship throughout the evening.
Make it Fun and Adventurous
Surprises don't always have to be conventional or dull. You can also add a touch of adventure and excitement to your surprise. You can plan and organize a fun activity such as a scavenger hunt or a surprise getaway trip to a new place. You can also get creative with different themes, such as a retro party or a movie night theme. Whatever you choose, make it fun and enjoyable while still keeping it a romantic surprise.
Make Your Presence Felt
However, don't forget to make your presence felt throughout the surprise. After all, it's your boyfriend's birthday, and he wants to spend the day with the person he loves the most. So, be there for him, shower him with love, and make sure he feels special throughout the surprise event. After all, the primary goal of any romantic birthday surprise is to make your boyfriend feel loved, cherished, and unforgettable.
Creating a Memorable and Romantic Birthday Surprise for Your Boyfriend
All these ideas are not just romantic but thoughtful too. Remember to make the day all about your boyfriend and how much he means to you. These ideas cater to both your desires and that of your boyfriend and are sure to make him feel loved and cherished. So go ahead and start planning your romantic birthday surprise now!
Birthdays are a special day for your loved one, and you must make them feel treated and appreciated. Hopefully, these romantic birthday surprise ideas will make your boyfriend's birthday memorable and unforgettable. You don't need to spend a lot of money, as a well-planned intimate celebration can be as special as an extravagant one. Remember, effort and thoughtfulness count.
How to Plan the Ultimate Romantic Birthday Surprise for Your Boyfriend
Birthdays are an excellent opportunity to show your love to your boyfriend and make memories that will last for a lifetime. With these tips, you can create a memorable, romantic, and exciting surprise party that he will never forget. The most important thing to remember is that the surprise event should be centered around your relationship and your boyfriend's interests. Making it all the more personal and special. So, plan, personalize, and surprise your boyfriend to make his birthday a day that he will always remember!
Finally, the best way to celebrate your boyfriend's birthday is to spend quality time together, show him how much you care, and cherish every moment you spend together.
Also, read: