A relationship can get boring if it lacks some activities that will make it active. Couples should learn to do some romantic and fun activities together. It helps couples to bond more and increase intimacy. 36 wonderful things you can do with your boyfriend at home is highly recommended.
Couples need to create a lovely memory together that will strengthen their relationship. When couples desire to fill their relationship with fun activities, makes them love and cherish each other more. It helps to build a strong and healthy relationship. You can include a lot of romantic adventures, lovely date nights, and creative activities that will ignite the spark in your relationship.
It will always bring you close together, be happy, and appreciate each other better.
Importance of fun activities in a relationship
There are lots of advantages when you energize and spice up your relationship. You will avoid routine exercise with your partner which normally lead to boredom. It will enhance intimacy and take your romance to the next level. When you engage more in different things it will bring some touch of excitement into your relationship.
It makes your relationship get stronger because of the new adventure.
Your relationship will last long and be very interesting. None of you will complain my partner is boring. It helps you to build memories together.
You will both be happy. Some relationships have experienced set back or even broken up just because of boredom. Everyone loves a relationship that is bubbling but you're the one that will make it happen.
Best romantic activities to do with your partner
You can get tired and bored because of your daily life routine when you don't add some spice to your relationship. Here are some of the unique things to do together and bring the best out of your relationship.
1. Arrange a double date together. You can go out with another couple. It will strengthen your own relationship when you see another couple like yours.
2. Go for a couples massage. How lovely and romantic it will be lying by the side of your partner/husband. Foot massage is also popular, you can try it together and you will never forget such memories. You can try to massage each other at home? It's very romantic and fun. It makes you happy, relaxes, and enhances your sexual intimacy.
3. Write and send love letters to each other. This reminds me of when I'm dating my husband. Anytime I received his letter, I will read it over and over again. It's old school but fun and such memories last forever.
4. Play a sexy game of Twister together. Twister sexy games for couples can be very fun and romantic for every couple. Is it a new relationship, in a deep relationship and even a married couple can play it? It's a romantic game because you're both naked. It improves your sex life. I enjoyed playing it with my husband, you should look for some and try it.
5. Plan an event together. You will be actively involved. Sharing ideas and opinions. It can be fun and romantic.
Romantic games
6. Binge Watch a TV series together. When you're doing some fun things together, you're always connected. no matter how short the series is. It's one of the best ways to enjoy a date night together. Enjoy it with popcorn, biscuits, or anything you like, and cozy up and lie on a bed or on the carpet. There is one movie series that I'm watching with my husband, called resolute heart, it's just 15 minutes every day, but very interesting and fun. You can find something fun that will always bring you close to each other. Whatever you both like and enjoy. 36 Wonderful Things To Do With Your Boyfriend At Home
7. Play games together. Each of you will like to win. You will laugh and have fun together.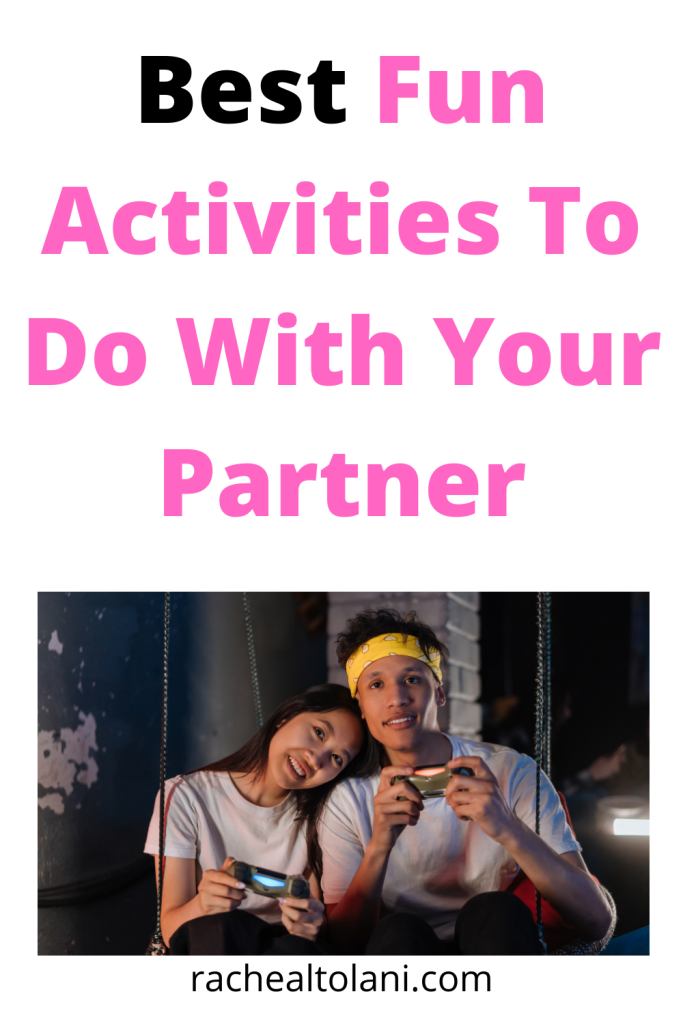 Creative activities for lovers
36 Wonderful Things To Do With Your Boyfriend At Home.
8. Take a workout class together.
9. Go for a picnic. Make it a memorable day and enjoy it together. Go with some snacks, and drinks and have fun. When you're creative and make it fun, it becomes part of you and you want to do it even more often.
10. Do all-night chat
When you stay up long hours at night just to chat, can you remember that's what you do at the beginning of your relationship? The emotional feelings alone will fill your heart, you will not even think of time. That's the power of love. You can do it once in a while to bring back past memories.
11. Cook dinner together
It's one of the best date nights because when you're cooking, a romantic conversation is ongoing. Do you know that food and romance are a perfect match when it comes to love affairs? You can find a nice recipe and try new dishes, it may become one of your favorite meals after all.
12. Go for a Picnic
There is nothing good than hanging out with your lover. When the weather is good, going out and chilling together outdoors gives you new feelings. Sometimes is better than sitting at home repeating the same thing.
13. Give each other a nickname
What do you call each other? Look for a nice pet name for your lover. I have one unique pet name that I give my husband. Do you know that whenever I call him that name twice or thrice, he knew that I want him?
14. Plan a trip together
It doesn't necessarily need to be a long trip, sometimes very short but meaningful. You will both be connected.
15. Go Canoeing
It's another exciting thing to do with your boyfriend or husband. Canoeing is fun and one admires and enjoys the fresh air on the water. You don't necessarily need to live close to the coast even canoeing around the city where you both lives is fun.
16. Always remember to sext each other. 36 Wonderful Things To Do With Your Boyfriend At Home
When you learn to send a romantic sexual message to your partner, is one of the best things to activate your relationship. He/she will be reading it with laughter and it gladdens the heart and connect you emotionally.
17. Have you tried spaghetti kisses before? Wao is fun, it helps you to have the best eye contact and is absolutely romantic.
Fun activities for couples
18. Go to the cinema or theater together. It's good to go away from home sometimes. When you go out of the house, it gives a new feeling and experience that you will both enjoy.
19. Do bed talk. When you're doing this, you will have time to talk, chat, and cuddle and love-making will come naturally.
20. Have a playlist
Compile some nice music that you both like for example the music on your wedding day, your first date, or even some memorable date nights you've had before. When you do so, you're bringing back a good memory and also creating a good memory. You can listen to them again most especially on your anniversary day. It will make it more beautiful and memorable.
21. Go to a concert
You will be able to dance together, even more, interesting in the midst of other couples. It makes you feel and enjoy each other's bodies in another way. It will give you unforgettable memories.
22. Go to the beach together. This is interesting and fun too, riding a horse together and holding tight to your partner. It's romantic.
23. Take a bubble bath together. People think is childish but it's not. If you both like and enjoy it, there is nothing wrong with that. You're together in a warm bath, relaxing and kissing each other, it's lovely.
24. Feed each other. Learn to do this often and spark the fire of your romance.
Wonderful ideas for couples
25. Try Trampoline World
This is another thing you can do with your man, it's absolutely very fun. You will jump and jump until you're both tired.
26. Go to a restaurant. It will be fun to have a different taste of international dishes apart from the food you've used to.
27. Go for a walk and hold hands to enjoy the fresh air late in the evening.
28. Dance in the kitchen. Anything is allowed when is fun and both enjoy it.
29. Ride bicycles together
30. Visit a museum
When you do this together, you will be exposed and it's very educative. You will have a lot to talk about and have fun at the end of the day.
31. Enjoy breakfast in bed
32. Go for a new adventure
33. Go ice skating
34. Visit an amusement or recreation park
35. You can grow a beautiful garden together.
36. Visit the Zoo
37. Seedbomb together. (This is about flowers!)
Do you know that visiting a zoo is for everyone, it's not only for children. This can be fun going there with your boyfriend. It's a good adventure, you will see lots of animals in real life. You will never forget such a memory.
All these activities help you to enjoy and have fun in your relationship. Boredom kills the emotional intimacy between couples. So Learning to do some of these fun things together always and is healthy for a relationship or marriage. It keeps you stronger and increases your love for each other.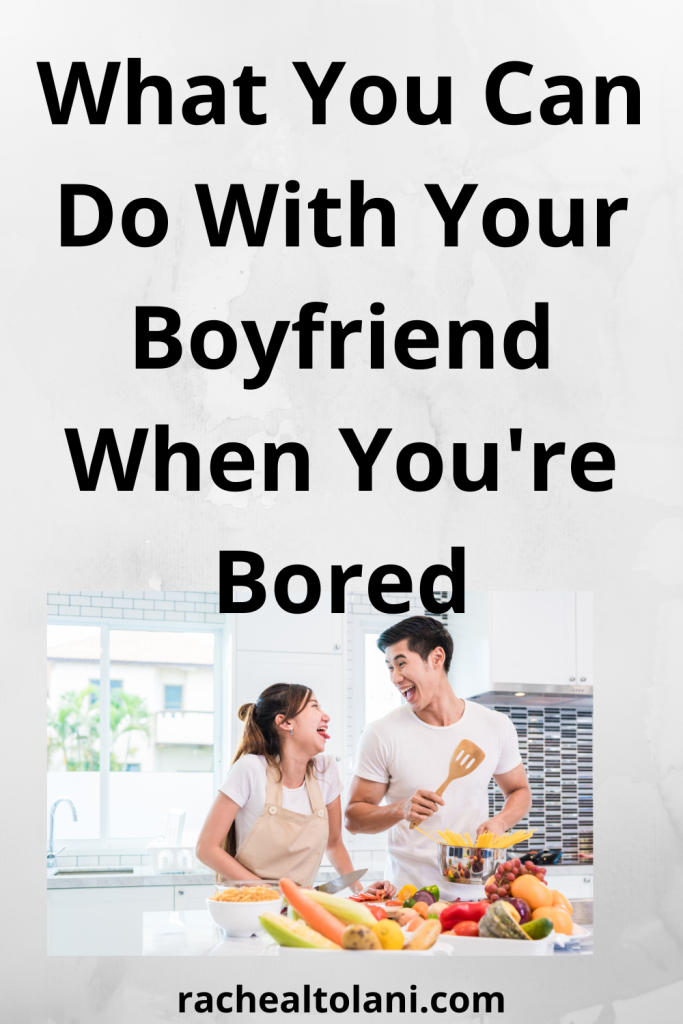 Also, read:
41 Best Ways On How To Encourage Your Man