One of the great ways to lift up your husband is by the words of your mouth. When a woman knows how to encourage her husband is the best gift you can give him. This is because when you're lifting him up, you're doing it for the whole family. 41 best ways how to encourage your man are highly recommended. If the head of the family has it right, it will extend to the entire family, and it's healthy for your marriage.
Words are powerful when we use them in the right way, they play a huge role in building a strong and long-lasting marriage. When you become a good encourager to him, it shows that you believe in him and also reveals how much you love and care for him.
Your responsibility as a good partner
It is crucial as a good wife, to always give him strength and support that you're behind him. When knowing that someone believes in you gives you an unusual strength that will keep you going.
This is one of the things that can help him every day. Make it a daily habit to encourage him with at least one or two words and it will strengthen your intimacy and at the same time, you will be a woman that he will be proud of you.
Here are some of the unique ways to encourage your husband.
What do words of encouragement mean?
It's the act of giving hope or support to another. When you offer positive words of support and approval, that's an encouragement to someone. It also means you're helping them to develop their own ability and be courageous.
The words of encouragement can serve as a small quote that shows that you're reasoning along with him, you support his vision, and you strengthen him. Sometimes our husbands need those words because in the journey of marriage, things can be hard along the line for them and they need their wives to be there for them and build them up with their words of understanding.
You will come out triumphantly after this struggle and you will share your testimony.
Whenever you need someone to talk to, just call me, it's my duty to lift you up.
In my dark moments, your love has strengthened me, I'm here to stand by you.
Do you know that you're stronger than you think?
Life is neither a tragedy nor victory but I have chosen the latter one because of you.
Burdens are not too big when you share them with someone, especially your wife.
You're a wonderful and caring father who is the best for this family.
You're the best husband in the whole wide world and I'm proud of you.
You can count on me, I'm here to lift you up whenever you're down.
Powerful words of encouragement
41 Best Ways On How To Encourage Your Man
10. You can do it, just put in more effort.
11. I cherish and appreciate our memories together
12. You've become a better man than I can imagine.
13. Never give up on yourself, because I always believe in you.
14. You are kind but strong. You are humble but fierce. You are protective but not afraid of fear. You are the dream of the perfect and gentle husband. You are the best gift to me.
15. The best decision I've ever made is the decision to be with you forever.
16. Whenever I call your name is very sweet on my lips and your words are sweet to my ears.
17. You have built a great family and I'm so happy to be part of your life.
18. I never knew I will marry a good man like you.
19. You can break any barrier because you have what it takes to be great in life.
20. Never think you're not good enough, you are a genius.
Soul lifted words of encouragement
It is important to provide compliments to the people you care about, as this can help you build a strong relationship with them. Also, it enhances long-lasting relationships.
21. There are a lot of things you can do, just be bold enough to put them into action.
22. You have great ideas, just know that you can
23. I will never give up on you because I know you will never give up on me too.
24. Who you have become, always gladdens my heart.
25. I have learned a lot from your life, you're a great man.
26. You're such a simple and kind man
27. Never think you cannot achieve anything, yes you're able to achieve your dreams
28. You're so important in my life, your love has shaped my life.
29. Your love has always given me hope in my dark night.
30. It's not like you to feel this way, you're stronger than you think. Common on and get up.
The best words that your man wants to hear
41 Best Ways On How To Encourage Your Man
31. Whenever I feel lost, your love has always found me.
32. You're a great example to this family and I see the best coming out of you.
33. You have refined our marriage as fire-refined gold.
34. You're worth fighting for no matter how many battles I have to conquer.
35. I don't think is possible for any man to make me happy like you, you're just too much.
Nice words that will put a smile on his face and love you more
36. Your flaws make me what I am today, you're such a humble man.
38. Your strength, love, and care have energized me in so many ways.
39. I will not allow you to give up, keep trying, you're almost there.
40. I want to be on your side in every bad and good time.
41. You have always given your best for the progress of this marriage, so I promise I will never disappoint you.
When a wife is always encouraging her husband daily, he will never forget your kind and sweet words. Also, your words of encouragement can make him more productive and feel fulfilled. It will keep your marriage stronger and healthier. And it's one of the best ingredients for long-lasting and blissful marriage or relationship. However, the 41 best ways on how to encourage your man help you with the right words to lift him up.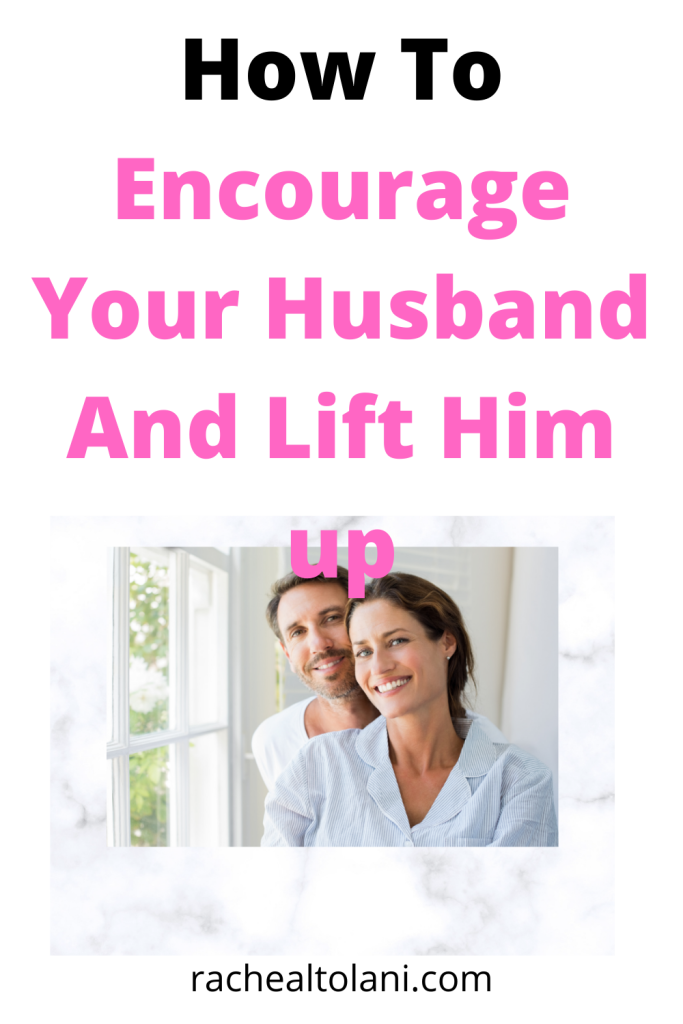 Also read:
10 Signs of Lack Of Respect In A Relationship and how to solve it