Every man desires to marry a good wife. As the Bible also says, he who finds a wife finds a good thing. Most of the advice given to newly wedded couples goes to the wife. It's always based on how to be a better wife: qualities that a man is looking for in a woman. So marriage is not just to marry any woman but to marry a good woman.
What is happening in many marriages today can not be overlooked. when a woman refuses to improve in her role as expected from her husband. This has caused a lot of misunderstanding in many homes. How to be a better wife, qualities that men are looking for in women is highly recommended as a woman needs to keep on learning and improving herself. One of the best traits of a good wife is someone who knows how to show love to her husband
Since there is no perfect woman. There is always room for improvement. Does your husband always complain? Do you desire to be a better wife? Are you looking for how to make him happy? Here are some qualities a man loves to see in his wife.
Understanding
What makes a good home between couples is understanding. Man always likes to marry someone who understands him better. Without a clear understanding, there will be chaos and problems in such a home all the time. Man needs a woman who will reason along with him in every situation. Your husband wants to see you grow. For example, some issues that are causing problems before in your early marriage, don't matter or hurt you anymore as you grow older together in your marriage.
Your husband can really see that your level of understanding has improved. This is one way to be a better wife and one of the best qualities that a man is looking for in a woman.
Be kind to your husband.
The way you treat your husband matters. Always be polite and don't be rude to him. A woman that wants to be better in her marriage will see her husband just like herself. Be kind, warm, and loving. This has to be extended to his friends, families, and everyone around him.
To be a better wife, you need to have a soft tone when you are talking to him. Put a smile on your face especially when you are around your husband. You have to deliberately choose to be pleasant towards him no matter how. Don't be a wife that always shouts and lashes over her husband. There are ways to handle issues even though you have a bad day. Welcome him with a smile whenever he comes home, You are honoring him by keeping yourself neat and appearing nice. This will always draw his attention to you. This is another key to how to be a better wife, qualities that a man is looking for in a woman.
Goodhearted
When a woman has a good heart, it shows in everything she does. She does everything with ease because of the nature she posses. This is another best tip on how to be a better wife, qualities that a man is looking for in a woman or longing to see in a woman every time.
Avoid being materialistic
Men generally are looking for someone who sees far beyond the present and a home manager. A wife who is not selfish, but thinks about others. You can be a better wife if you place your priority right. Your family needs first, before any other thing. This is another quality that a man is looking for in his wife. It's not everything you see that you need to buy when there are a lot of bills at home.
A good mother will first think of her family, children's school fees, and the general well-being of her home before thinking of buying cloth or any uniform (Aso Ebi) and expensive jewelry.
Give him a surprise
Don't be too greedy with your husband. Give him a surprise occasionally, and prepare his best meal even without asking him for money. Spend your own money on him. A way to win a man's heart is through his belly so, feed him well. You are not stupid, whatever you spend, you will get it back even in a double fold. Learn how to please him, even if you don't know how to prepare his favorite dishes, you can learn it. For you to be a better wife, it involves sacrifice, compromise, and generosity. Men do enjoy the surprise when you do something they've not used to.
You should learn to use your talent to make him happy. For example, you can sing, dance, play keyboards, or whatever gifts you have can be used to better your home.
Avoid argument
For you to be a good wife, you have to avoid an unnecessary argument that is always causing misunderstanding between you and your husband. Mind you, it is not every argument you need to win. Do away with an unhealthy conversation, you must compromise most of the time just for peace to reign in your home. This is another way on how to be a better wife, qualities that a man is looking for in a woman in your home.
Be reliable, loyal, and dedicated
Marriage is a lifetime institution, all the vows you've made during your wedding must be fulfilled at all times. Let your husband know you for your words. A good wife will be dedicated and committed to the progress of her home. Moreover, she is indeed the pillar that holds her house.
Be respectful
Respect is reciprocal when you treat your husband with respect, you will get it back. When you respect him, you are honoring him. This can be seen in your action, the way you talk, or your attitude generally. Every man feels happy when he gets respect from his wife, especially in public. However, how you treat him in the presence of friends and family tells a lot about the type of wife you are.
Be kind and loving with your tone, always avoid a commanding tone or being harsh with the way you speak to him. Did you always complain that your husband did not love you any more or did not even respect you? Can you take a look at how disrespectful you are to him? To be a better wife, try to change your behavior, give him respect and you will see the good side of him.
Be accommodating
Every man loves to be himself. Give him the space he needs, don't drive away all his friends with your attitude. Don't nag when he wants to hang out with his friends. A good wife that wants to be better in her home will give her husband freedom without any problem. Don't feel jealous or sentimental when you see people around him.
Be attractive and maintain your health
A good wife will always be attractive and keep her health fit for her husband. You need to take good care of yourself. You know the taste of your man, don't take care of the house and neglect yourself. Don't join the saying that nobody is looking at you. Remember when you appear nice and healthy, he's being honored and proud of you.
Be supportive
Every man will like to get full support from his wife in all circumstances. A good wife always celebrates her man's achievements and shows her concern in times of failure. She encourages him and is there for him in times of trouble. She is a good adviser and a motivator. Moreover, do not belittle him or play with his emotions. A good wife will be a homemaker, not a home breaker. This is one of the tips on how to be a better wife.
Don't criticize him when he makes mistakes, especially in front of others. Men feel on top of the world when their wives give them compliments in the presence of families and friends. Value him and make him proud even in front of his children.
Communication
Try to keep calm and watch out for what you say whenever you are angry. Communication is very paramount for a healthy home. You can be a better wife when you think deeply before you talk, most especially during a misunderstanding. You don't need to respond to every word your husband is saying, especially when the argument is hot. Try to keep quiet and do something else. Because words are powerful, they can make at the same time, they can be destructive.
A better wife will overlook a lot of things and will not take things personally whenever any issue arises. Because in this journey, you will disagree to agree on many occasions. You need to get mature day by day. This is one of the best qualities that a man is looking for in his wife.
Maturity
A man wants to see his wife grow and mature in every area. You need to be better and better at the way you handle things. For example, the way you talk or react should be better now than before. He loves to see you become better as your marriage grows. He expects you to outgrow some behavior. In this way, maturity is one of the ingredients for you to be a better wife.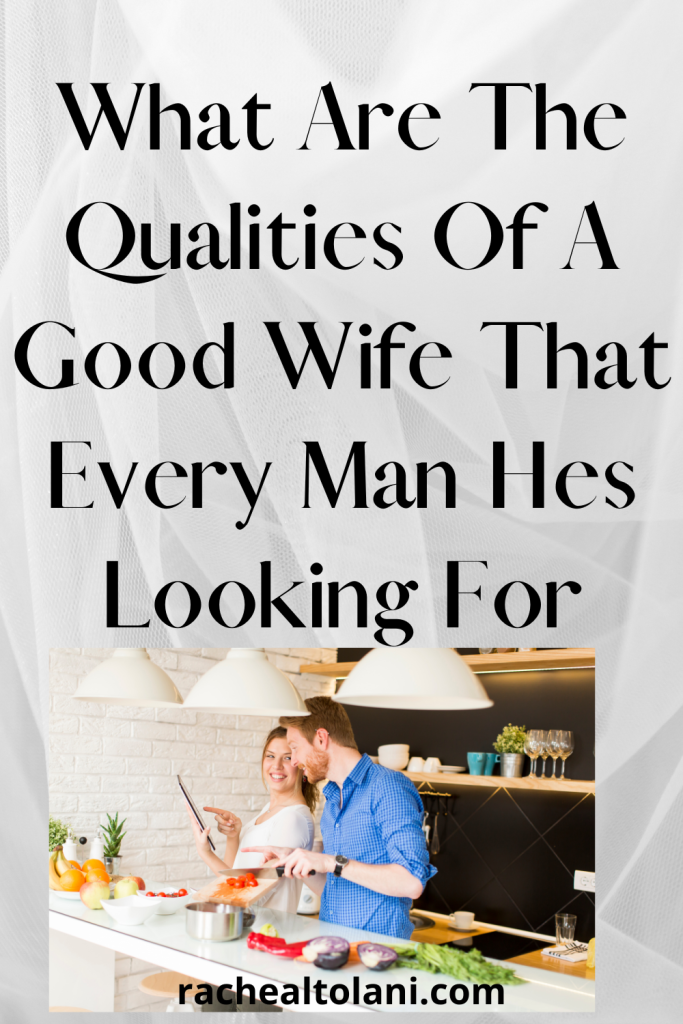 Satisfy and Make him happy in bed
Learn to avoid the revenge game during bedtime. Maybe he has done something wrong or hurt you during the day. Now you think this is the time to pay him back. A better wife will not deny her husband on the bed rather she will please him. Sexual intimacy is one of the most important aspects that keeps and solidifies any marriage.
It is one of the common reasons why most men cheat. Since he cannot get what he wants at home, he will go anywhere else to please himself. Moreover don't join the click that says, sex is not food. Meanwhile, for men, it's a food that they must eat when the body calls for it. As a better wife, be wise and enjoy it together.
Show appreciation and express your love
Men love to be praised and appreciated. Out of your busy schedule, try to spend quality time together with your husband. Create a vacuum in his heart that no one else can fill. Whenever you are not around, let him miss you dearly. They like to hear sweet words from their wives. Be interested in whatever activities he loves to do, and watch his favorite sport together even though you are planning to do something else or busy. Honor him with your time.
Moreso, learn to pamper him often, let him feel at home, and celebrate his special day with him. Express your love always and let him know your feeling. Do some fun stuff together, give him a massage, or help him cut his fingernails.
Do not nag
Do you know that nagging does not help you? Men generally hate a nagging wife. If you can change your attitude, your man will help you. Don't push your man away from the house because of your complaint. This is another way on how to be a better wife. Let your soft tone and good behavior draw your husband home. Men enjoy coming home early to a peaceful and caring wife. Be your husband's best friend.
It does not matter how many years you have been married. The good thing is that you need to be getting better year after year. Your husband is expecting to see changes in every area of life in you. This shows that the qualities that men are looking for in women are very important. For a woman to be better in her marriage, is everyday work. In a woman where most or all these qualities are found, her home is always peaceful.
Marriage is an institution that involves hard work. It is just like an investment, what you sow is what you will reap. Learn to give your husband your best, then you will get his best in return. Treat him like a king and a blissful home is inevitable.
Also, read:
9 Tips On How To Be A Good Man To Your Wife/Partner