Nigerian Jollof rice is a delicacy meal that everybody loves to eat in West Africa. It is the most popular dish among the common foods in Africa most especially in Nigeria.
Jollof rice recipe for homes and parties is in higher demand because Nigerian Jollof rice is incredibly delicious. Who wouldn't want to learn how to cook such a delicious meal anyway.
That's why the majority of Nigerians and even some other parts of Africa wants to learn how to prepare it.
Meanwhile, any occasion/party can never be completed without Nigerian jollof rice. Is one of the dishes most people sort out for at any party.
It is normally made from rice, tomatoes, tomato paste, onions, salts, red ball pepper, and other spices like curry, thyme, etc.
The most current version is being cooked with long-grain basmati rice. What is special about this rice is that after cooking, it comes out very well and each grain is separated from one another.
Nigerian Jollof Rice

Recipe
This incredible meal called jollof rice is commonly eaten and being prepared with different versions from many geographical locations of West Africa. These include Nigeria, Togo, Senegal, Ghana, Cameroun, Gambia, Mali Ivory Coast, and Sierra Leone.
Jollof rice is becoming international because it is being eaten all over the world where Africa people live. It is cheap and very easy to make coupled with its delicacy taste.
Meanwhile, how to cook Nigerian jollof rice for homes and parties has been a point of discussion even within different tribes of Nigeria. This shows how much people cherish this salivating dish when it is well cooked.
The distinctive taste of Nigerian Jollof rice comes from the burning aspect of it. While the burning aroma makes it unique and stands out among other African countries.
When it comes to Nigeria Jollof rice, there are different ways to prepare it. This recipe is on how to cook Nigerian jollof rice for homes and parties. It's commonly used and If you can follow the steps carefully, you can be sure of better results.
Essential Ingredients.
Tomato paste, Onion (white or red), and Red ball pepper. All these essentials ingredients are the major factors that make jollof rice what it is. For example, tomato paste makes it colorful and attractive, while enriches its taste.
Onion increases the sweetness and adding to the taste and the flavour. While the red ball pepper (tatashe) also makes the jollof rice more colourful and appealing to the eyes, when you see it, of course, you are salivating while you are ready to eat it.
The quality of ingredients used by Nigerians and the smoky flavour enhances the delicacy and makes Nigerian jollof rice more tasteful and delicious than other countries.
I encourage you to use the best and fresh ingredients so that your jollof rice can come out very nice as desire.
Moreover, when you prepare this delicious meal for your family, their appetite increases and bond them together.
Cooking

Preparation

I would advise you to do some preparations and get all the ingredients ready before you start cooking. It makes cooking easier and faster.
Chicken/beef should be seasoning and cook until tender while extracting the stock and set aside.
Wash rice about 4-5 times until the water is clear to get rid of too much starch
Slice or dice the onion and set aside.
Without further ado, let's dive into the recipe.
Grab your blender and blend these ingredients together and also set aside.
3-4 Red Ball Pepper (Tatashe)
2-3 Scotch bonnet (Atarodo)
3 -4 Tomato Plum or chopped tomato
2 Garlic cloves
1-2 Onion Diced
Other

Ingredients
6 cups long grain basmati rice
¾ Cup Vegetable oil
250g Tomato paste
4-5 Cups Chicken/Beef stock
1 Teaspoon Curry Powder
1 Teaspoon Thyme
White or black pepper to taste
2-4 Bay leaves (Optional)
1 Teaspoon of Ginger grated
50g Butter/Margarine
1 Teaspoon Salt or add to taste
4 Garlic cloves
1 Onion Medium-sized (sliced)
6-8 Seasoning Cubes
1 Tomato sliced (Optional)
In order to prepare this wonderful meal, I urge you to follow the steps. Because each step counts, for you to achieve the best taste of how to cook Nigerian jollof rice for homes and parties.
Methods
Preheat the vegetable oil in a cooking pot. Add the diced onions and let it fry for about 3-5 minutes
Add the tomato paste, garlic, ginger, and bay leaves and fry for another 3-5 minutes. It requires continuous stirring to avoid burning.
Blended ingredients should be added and allow the pepper to cook very well for about 5 minutes and stir
Season with Curry, Thyme, salt to taste, seasoning cubes, and bay leaves allow them to cook together for 2-5 minutes.
When adding the chicken/beef stock, stir well and allow it to cook until it boils together
Pour in the rice and allow the sauce to cover it. Cover with foil paper and a tight-fitting lid and let it cook for about 15-20 minutes
Reduce the heat immediately after 20 minutes. Stir well in between with turning stick, tasting is very necessary, and add little water if necessary
Steam the rice until the rice is done with low heat for about 15-20 minutes
Taste and add salt if necessary. Increase the heat for about 5 minutes to bring that typical smoky/firewood aroma of Nigerian jollof rice
Turn off the heat, stir together very well
Your Nigerian Jollof Rice is ready!
Jollof rice is enjoyable when you serve it warm with any cold drinks of your choice. Majority of the people enjoying serving it with riped plantain (Dodo), sometimes with salad and vegetables together with fried chicken.
Note: The bay leaves should be removed when dishing out the jollof rice if you're using it.
NUTRITIONAL VALUE
I think it is very important to know the nutritional value of the Nigerian jollof rice you are making. The beneficial effect of this meal to your body system is highly commendable.
Calories: 415kcal, Carbohydrates: 81g, Fat: 2.8g, Protein: 10g, Saturated Fat: 0g, Sodium: 496mg, Potassium: 508mg, Cholesterol: 2mg, Fiber: 3g, Vitamin A: 1540IU, Sugar: 6g, Iron: 1.8mg, Calcium: 54mg, Vitamin C: 52.3mg.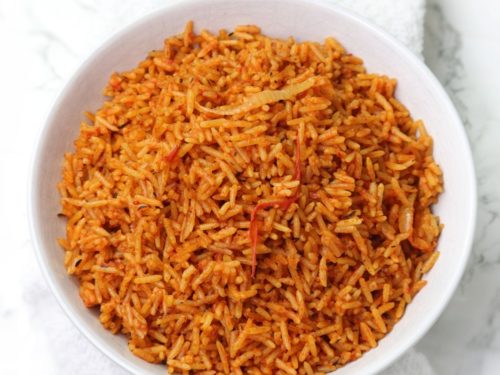 Also read:
50 Lessons I Have Learned In Life And breakthrough
21 Important Keys That Can Sustain Marriage/Relationship
5 Things a Woman Should Avoid in Her Relationship/Marriage
8 Things Nagging Does In A Marriage/Relationship And How To Avoid It