Women are so passionate about how their men make them feel. A woman can go thousands of miles for her man when she realized how much you appreciate her and make her feel loved. 14 ways how to make a woman feel loved and appreciated are highly recommended.
It does not matter how little or small things you do for your woman, it will make her happy and feel loved. Women generally are being emotional when it comes to love. They love little appreciation from their men. Do you know that just sending I love you will make her feel special? Women are sensitive to sweet words.
Just telling your girlfriend or wife you're beautiful when she wakes up in the morning is enough for her for the whole day. She will feel loved and wanted by that compliment alone not to talk of when you're doing it regularly coupled with other kind gestures.
Importance of making a woman feel loved
The atmosphere is always very peaceful when a woman feels loved and special. It's also healthy for a strong and long-lasting relationship. It enhances intimacy because she is always in a happy mood when she feels appreciated by her man. She will always give you her best. There is always peace and understanding and it improves good communication.
Men don't need a lot to make their women feel loved and cherished. We are what we hear as women and with a token of a surprise gift, every little word from our men counts, and we enjoy it.
Here are some tips on how to make your woman feel loved.
Be present emotional and physically
Women feel great and loved when their men are physically and emotionally present. Listen carefully and give her your attention. She will feel valued when she is talking to you. Don't let her feel that TV or watching your favorite football club is more important to you than her when she has something in mind to tell you. Women love attention when it comes to the matter of the heart.
When together, don't look off in the distance or daydream about Sunday night football. "Face and look at her with interest when she starts talking," advises counselor, Karleen Andresen.
Send her a Small gift but meaningful
I have realized that most women like gifts and I also do. It doesn't need to be expensive, something very small, makes a woman feel loved. It shows you're thinking of her, that's how she will feel. Do you know what your woman likes most? Then bring it home occasionally without her mentioning it. That kind of little surprise will make her feel loved and cared for because that small gift is meaningful to her.
Mostly many things that men didn't count are what women generally valued and make them feel loved and appreciated by their men. 14 Ways On How To Make A Woman Feel Loved And Appreciated
Send an unexpected text message
Unsolicited, meaning genuine and not asked for. "A text that says, I love you, or if you're not at that stage yet, thinking of you, speaks volumes," says psychiatrist, Dr. Dion Metzger.
Be supportive
When you know her hobby and what she's passionate about. You can arrange special lessons for her so that she can be better at it. Maybe you find something interesting about her hobby on social media. You can call her attention to it. It shows that you're interested in what is important to her. Women feel cherished about their men being part of every area of their lives.
Give helping hand
You can help her to do some house duties without her asking for help. Especially when you notice that she's tired and struggling to make everything ready in the house.
For example, you can tell her to relax in the kitchen today because you want to cook. Not only she will feel loved but you will be the best husband/partner she will be proud of. You can also choose to go and pick up the children from school. It's part of what makes a woman feel like a queen because you're helpful and thoughtful.
Be Romantic
Learn to take her out occasionally. Plan a romantic night and spend quality time together. Keep dating your wife/partner, it's good for your relationship and helps to ignite the fire of romance.
"Simple gestures like a romantic dinner with all of the trimmings; a dress to wear, flowers, etc. can make a woman feel like a princess," says Safran. 14 Ways On How To Make A Woman Feel Loved And Appreciated
Ask what she likes

When you know what she likes that will make her feel great. It will help you to always do it.
Since you can't read her mind, it's fine to ask her what would make her feel special, says relationship therapist, John Sullivan. "The key is then to do one or two a day whether you feel like it or not.
Appreciate her regularly
Everyone loves to be appreciated. When you appreciate your woman, it shows you're not taking her for granted. She will feel loved and wanted and know that you enjoy her company. Also shows that you feel her positive impact on your life.
Give her an unexpected hug
Learn to embrace her from behind especially when she's nervous or anxious about something. It helps her to relax and calm down. This shows that you care and you're giving her strength in that situation. Your woman will feel loved and wanted when you give her a surprise hugging her often from the back.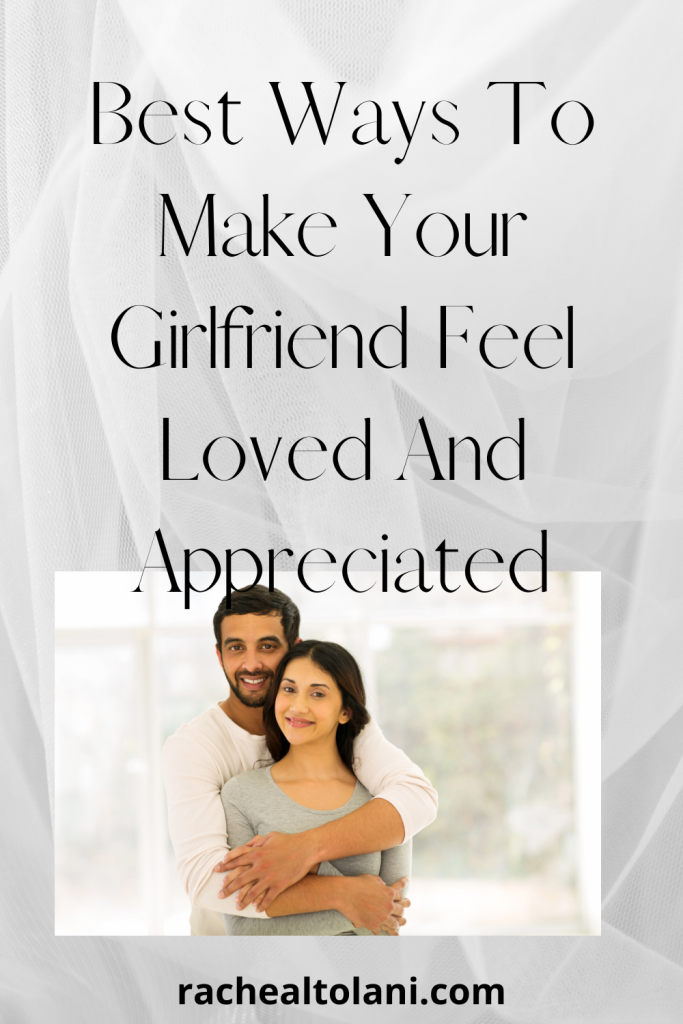 Always sit next to her
Women generally feel special and secure when you sit next to them not only at home but also outside. When you know your woman's body language, it helps you a lot. It's good to do little things the way she enjoys them rather than doing them anyhow. Body language is key to happiness.
She will feel like a queen when you sit next to her for example at a restaurant or elsewhere instead of across. She will always feel wanted and protected every time you're sitting close to her. Women feel on top of the world seeing their men next to them. It gives them joy and feels loved.
Give her Compliment Often
There is nothing that blows a woman's heart up like receiving nice compliments from her man. For example, baby you're beautiful, your dress is nice, you look great. All these kinds of compliments are what a woman wants to hear. It will make her feel cherished and loved.
Too many people wait to compliment people like it's a special occasion, says matchmaker and dating expert, Stef Safran. "Compliments are free and make people feel special!"
So learn to shower your woman with nice compliments and make her feel she's the best. Also giving her compliments in the presence of friends and family makes her feel special and shows that you're really proud to be with her.
Be old-fashioned.

Cheryl Detwiler, a life coach, and relationship counselor say of her husband and business partner. "Opening doors for her shows he's old-fashioned and women love the effort."
Can you do that for your woman? If you've never tried this before, surprise her with this small gesture. She will feel loved and honored.
Take decision together
Your woman will feel special and wanted when you ask for her opinion on every issue, most especially what to buy for your mother on mothers day or birthday. She will feel great and belong. This will make her feel she's indeed part of your life. It will also help her to build a good relationship with her mother-in-law.
Let her know she is the best
A woman will feel great when you tell her she's the best thing that ever happens to you. This will make her give you her best in all situations. Women never feel special when men are always comparing them with other women. But rather feel disappointed. If you want your woman to continue to feel loved and special, let her know without her, your life wouldn't have been better with another woman.
Every woman deserves to be treated with respect and kindness, this attitude also makes women feel special. Even though women feel loved differently you can learn how to make your wife/partner feel loved in her own unique ways.
Also, read: